Before install new version of Bulk SMS, we recommend you to uninstall old version. No need to restart your computer after uninstallation. No need to close your current applications or software.
Downloading Bulk SMS
DOWNLOAD STEP 1
Click here to begin downloading Bulk SMS.
DOWNLOAD STEP 2
In the prompt window, click "Run" to download Bulk SMS
DOWNLOAD STEP 3
Wait until the downloading process is finished.
DOWNLOAD STEP 4
When the downloading process is done, a window will prompt like below. It will confirm that you want to install Bulk SMS and show the name and version number of the installation.
Click "Run" to install
Installing Bulk SMS
INSTALLATION STEP 1
Select a language you would like to install
INSTALLATION SETP 2
Click "Next" to continue.
INSTALLATION STEP 3
In the "License Agreement" window, you must agree to the license agreement for installation to continue.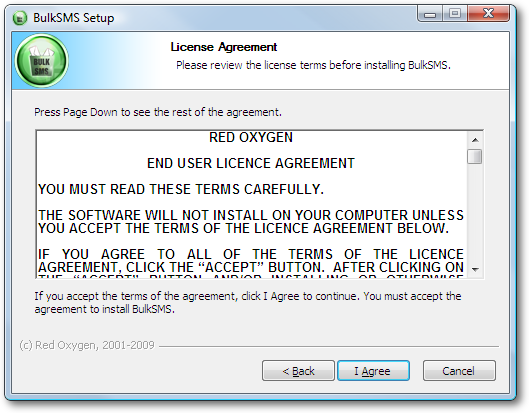 INSTALLATION STEP 4 (optional)
If your PC User ID has sufficient rights you can choose if you want Bulk SMS installed "For all users" or "For current user only"
Click "Next" to continue.
INSTALLATION STEP 5
You may choose where you would like to install Bulk SMS.
Select your installation destination.
Click "Install" to continue.
INSTALLATION STEP 6
Bulk SMS is copying files to your computer.
Wait for files to be copied (should only take a minute).
Click "Next" to continue, when copying is finished.
INSTALLATION STEP 7
Bulk SMS files have now been copied to your computer. You are now ready to configure Bulk SMS.
Click "Finish" to complete installation. If you tick "Launch Red Oxygen Bulk SMS", it will be launched after you click "Finish".
Configuring Bulk SMS
CONFIGURATION STEP 1
Go to "Tools" – "Options…" on the toolbar menu of Bulk SMS
Click "Options…"
CONFIGURATION STEP 2
1. At the "Account details" part, input your Account ID, Email address and Password
[Please note:]
The password here is your user password for sending messages, not the one you use to log in to the Web Administrator (https://www2.redoxygen.net).
Users and Administrators passwords are different:
Users' password is for using Red Oxygen services, such as sending messages or configuring Bulk SMS.

Administrators' password is for logging in Web Admin and maintaining your account.
You can set these two passwords to be different, if you are both user and administrator. But to avoid confusion and further error, we recommend you to set them both as the same.
Click "Verify settings" to verify your account.
Click "OK" if your account verification is successful.
2. At the "HTTP proxy" part, if you are using a proxy server, please input correct information. If you are not sure, please contact your network or system administrator.
3. Change software language if you want. Set up your country code. And select a update frequency, never, weekly, fortnightly or monthly.
After you complete these three parts, click "OK" to apply your settings
For further information, such as how to use Bulk SMS, please check Help document in Bulk SMS (as indicated) or contact one of our staff.