Guide to Integrate Red Oxygen with LinxCRM
Overview
The LinxSMS function allows you to send SMS text messages, in conjunction with a service provider, to Clients, Referrer Contacts and Team Members.
Setup
Before sending SMS messages you need to set up an account with a service provider.
At this stage LinxCRM has been optimised to work with RedOxygen, an Australian company with an international reputation and competitive pricing. A free trial is available from this link if you would like to try out the RedOxygen service.
Note: When requested on the RedOxygen site please choose "Send SMS: From a script or CRM (Red API)".
To enter your SMS account details in LinxCRM please go to Users > User Preferences > My Login. You will need to enter your Account No., Password and Email address. These will be provided to you when you set up your account or free trial.
Tip: You may find it beneficial for each user to have a separate account – this way any replies will come back to the email account you sign up with.
Note: RedOxygen are an independent service provider and your relationship for SMS services is with them, not Linx Software.
To use the RedOxygen service a small file (RedoxygenCOM.dll) is required and this has already been supplied and installed as part of the LinxCRM installation. A copy has been placed in C:\Linx Software\LinxCRM ready for use.
Tip: We recommend you send yourself a test message, which you should also reply to, as a way to confirm the service is working as intended.
Sending Messages
All you need to do now is just click the
 SMS icon that you will find next to several mobile phone fields of Clients, Referrer Contacts and Team Members. You will then see this dialog box: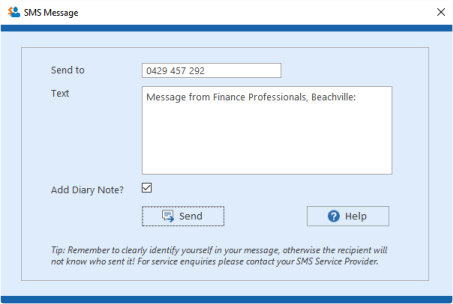 The mobile phone number will already be populated from the person's record.
Tip: For Client's you can nominate which number to use by default on the Client's Marketing tab.
The Message has already been started with information to help identify you, but this can be edited if needed. Just add text as required.
The Add Diary Note box is ticked by default and will add a copy of the message to the diary in the case of Clients and Referrer Contacts. Untick if not required.
Click Send to send the message. Watch for advisory messages on the screen.
Service difficulties: Please contact Red Oxygen direct on 1800 770 758 (Australia) or at https://www.redoxygen.com/contact-us/