5 Creative SMS Ideas for Restaurants
Restaurant owners today have many ways to reach their existing customers and nurture loyalty. One of the most effective and convenient ways is using short message service (SMS)—a.k.a., text message—marketing.
Why Use SMS Marketing for Your Restaurant?
Statistics prove that SMS marketing is successful, and customers like it. Consider the following data:
These statistics represent a terrific opportunity for restaurants to differentiate their establishments and secure a competitive advantage. Here are a few ways to harness the benefits of SMS marketing for restaurants and set your business apart.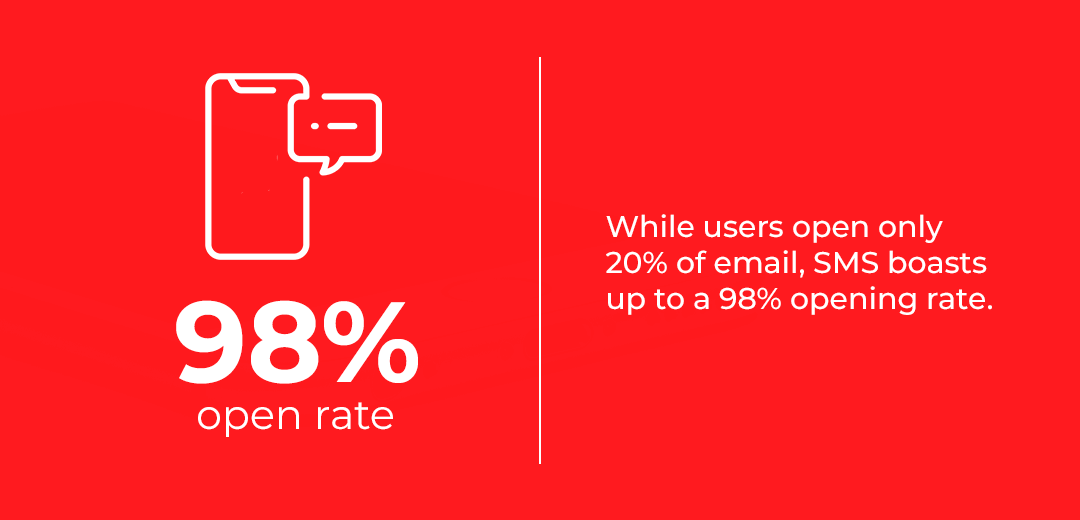 1. Offer Free Food With a Text
Who doesn't love free food? Exclusive deals are a great way to keep customers coming back for more. Consider sending your existing mobile subscribers an irresistible offer like a no-cost appetizer or dessert with any qualifying purchase.
2. Reward Your Best Customers With Advance Reservations
Certain days of the year are popular days for eating out. Long wait times or lack of available tables can put a damper on what should be a pleasant dining experience. Let your most loyal customers have first dibs by sending a text allowing them to reserve a table before opening it up to the general public.
3. Encourage Them to Brag About You
One of the most powerful advertising methods a business can leverage is word of mouth. One study revealed that 90% of consumers trust recommendations from another person, even if that person is a stranger. Providing discounts for referrals rewards those brand ambassadors and allows you to earn a new customer in the process.
4. Make It Exclusive to Them
Customers love to feel special. How about inviting them to be among the first to try a new menu item, visit another location or join you for a VIP patio event to enjoy the weather or view?
5. Cook Up Some Fun
You've seen loyalty programs from all varieties of businesses, and you may have one already. Expand on that idea and text a reward for completing a specific action as part of a larger quest. For example, have them visit a particular location (if you have more than one) or take a photo of something unique in your restaurant. Once they've completed the monthly challenge, reward them with a contest entry. The more times they engage, the better their chances to win.
Capture the Benefits of SMS Marketing for Your Restaurant
SMS marketing allows your restaurant to stand out from the competition when paired with creative ideas targeted to your existing customers. Continue to build on the loyalty you've already established and partner with an experienced SMS provider to find the best solution for you.
Red Oxygen enables restaurateurs to send SMS texts from any internet browser for streamlined delivery to eager customers, and our solutions support bulk texting and ready integration with popular third-party software. Reach out to our team today for more on the benefits of SMS marketing with Red Oxygen software and services.