Hobbit lead actor is in-love and he's happy to look like a hedgehog.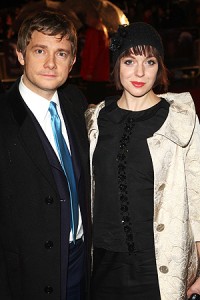 It's opening weekend for the long-awaited movie premier of The Hobbit. So our text of the week goes to lead actor Martin Freeman.
Martin met his partner Amanda Abbington on the set of a TV show in 2000. She recalls that his first text message to her was:
"You left and I wasn't done flirting with you. That's a bit rude"
Amanda was recently tweeted about the meme "Martin Freeman looks like a hedgehog."
Here's her response and some photos of Martin and hedgehogs.