What is 10dlc registration?
In short: The 10dlc (10-digit long code) registration process is a way to supply the carriers with the information they need to provide your business fast SMS throughput and message management without spam getting in the way.
This doesn't mean you'll get the fastest throughput, but it does mean they aim to make it consistent and reliably delivered, because they'll get the spammers, smishers and no-gooders out of your way.
But of course, to do that effectively, they need to know who you are, and what/reason you're sending SMS out into the world…via their network.
So, what's the process?
Glad you asked! We have a couple of options to get your registration in motion:
Option 1
As our beloved customer, we'd like to take the back and forth off your plate and streamline your invoice all at the same time.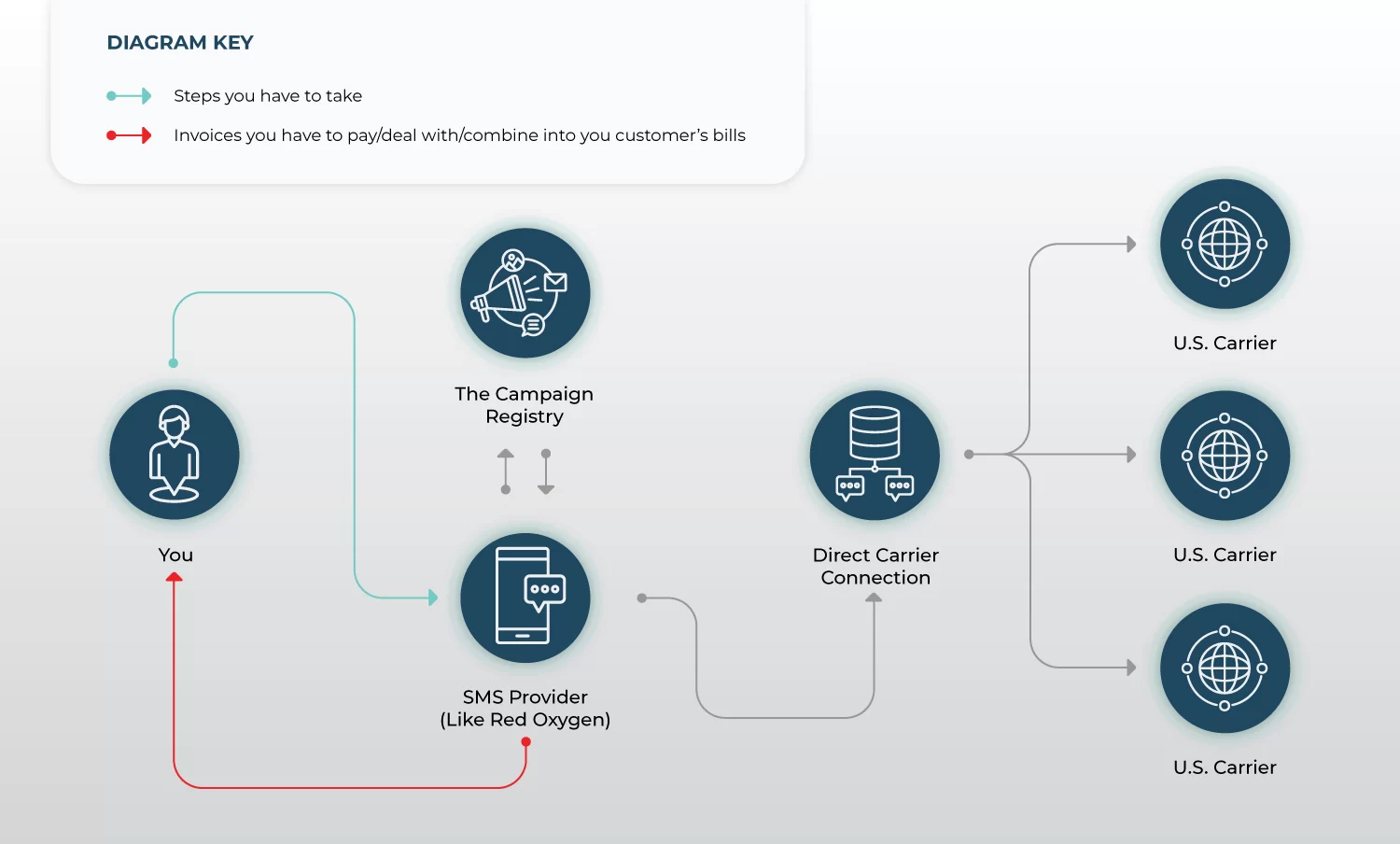 There is one form you'll be asked to fill out, completely, yes we really do need your EIN and message content…but then we do the rest.
We take your information, supply it to The Campaign Registry (TCR, the U.S. carriers' selected reputation management company). They then review the information, focusing on your federally registered company name, address and EIN (they need to match exactly) and your message content.—Is it righteous information? Is it providing or requesting information appropriately? Does it share personal information, contain phone numbers or URLs that don't belong to you?—They're basically making sure you're not trying to trick, spam, scam or harass someone. Tell the truth, and we'll help you if there's any message content they have a problem with.
With that information, they supply a vetting score. The vetting score combined with the use case provided will determine the level of throughput, per each carrier, that will be provided to you.
Now that they've verified who you are and what you're sending, they assign a unique campaign ID number to each of your campaigns submitted. 
We will take that campaign ID number, and your 10-digit long code (i.e., phone number) and supply it to the carrier, so they can match up everything on their end to allow the messages to deliver at the tier level that's been assigned to it.
You can have multiple campaigns assigned to one number, but the message throughput for that one number still has to abide by the carriers' limits.
With this process, all of the charges from TCR and the carriers are combined (line-itemed) onto your Red Oxygen invoice. Red Oxygen doesn't mark up any of the TCR registration or campaign fees, but we do all the work for you, because we like you.
If there are changes to your campaigns, you can just send us a quick support ticket and we'll take care of the rest.
Option 2
This option is a bit more complicated for you if you want to manage the process yourself, but we totally understand some folks like to have their hand in every step. That's ok too!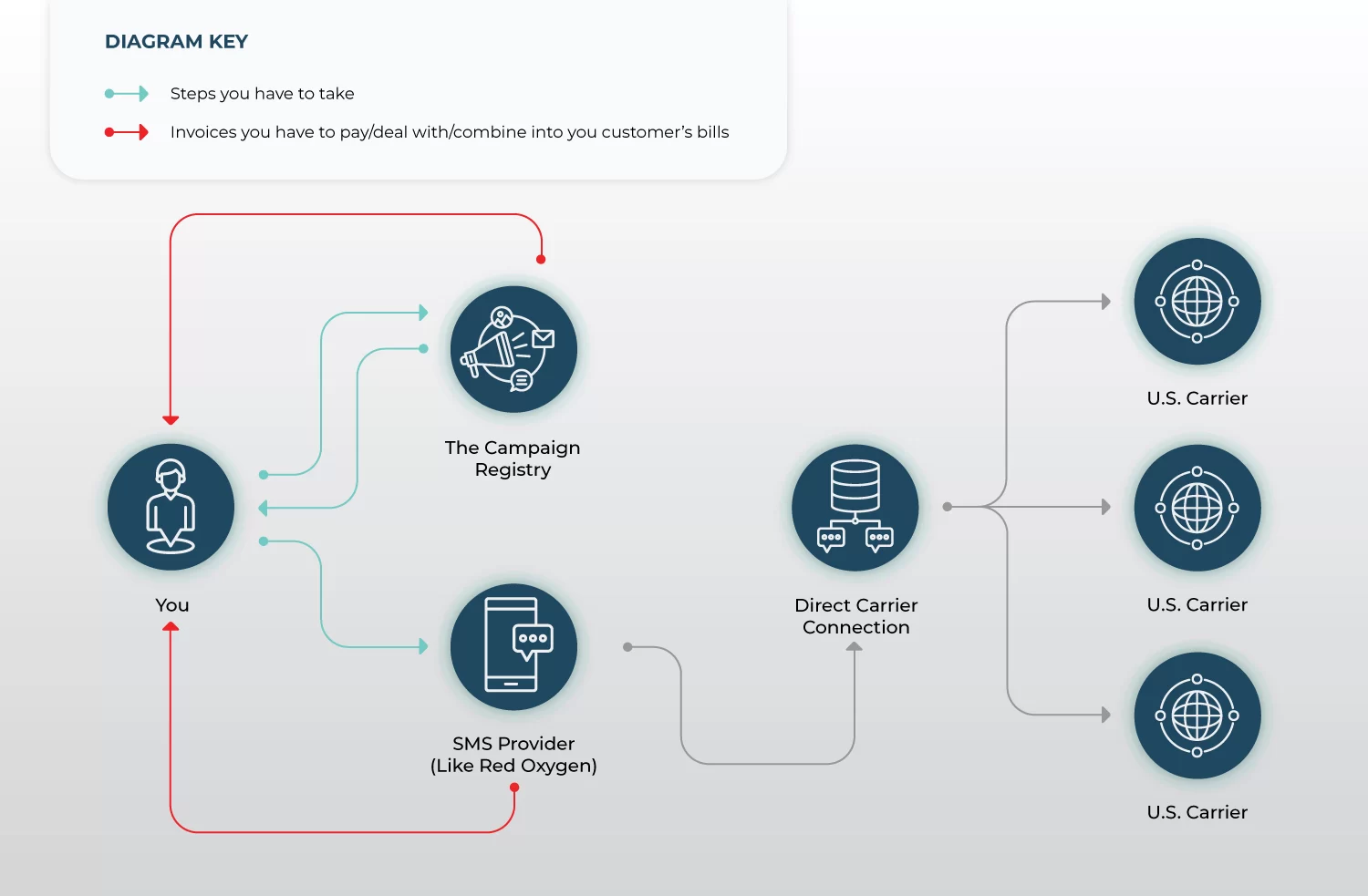 You'll start by creating an account on the TCR platform and then supply your campaign information, just as you would with our form.
They will provide you with the vetting score and campaign IDs, that you'll then need to supply to us, your SMS provider. 
From there, everything flows the same as option one, except you will then receive invoices from Red Oxygen and The Campaign Registry (for some unknown reason TCR only invoices every three months…though, with option one, Red Oxygen assumes the responsibility of the cost and breaks the TCR bill into monthly payments on your invoice, so your invoice is consistent on a monthly basis).
To learn more about carrier tiers and use cases, check out our post here.
Now you're ready to send your business SMS…
But, in an effort to keep you fully informed, there are additional fees that will appear from the U.S. carriers that are associated with the 10dlc registration. These are only billed from the U.S. carriers through the SMS provider, then on to you.
T-Mobile has implemented a one-time registration fee of $50 for each campaign. You can see how Red Oxygen handles the billing for this in our fees and fines post.
You'll also see an additional per SMS monthly surcharges from the carrier, as well. 
As of this posting, the registration process only has to be completed if you send messages (any qty) in or out of the U.S. Other countries have other forms of regulatory measures, but registration could be a likely next step.
You have a few questions? We're here to help, as always, our friendly live support staff is available via chat, phone or support ticket. Or check out a few of the most commonly asked questions below.
What happens if my campaigns change, or I need to add or remove one?
In option one, you just tell us about it and we'll get changes submitted to TCR and reconnect campaign IDs to numbers and relay the information to the carriers.
In option two, you'd need to log into your TCR account, edit or add/delete campaign information and send the updated Campaign ID to us.
Either way, make sure to remove/cancel old or unused campaigns so you don't continue to be charged for the campaign from TCR. And on the flip side, it's important to add new campaigns to TCR even if you're using the same 10dlc, or your message content could be scrutinized and you could be blocked or fined. Each carrier has a different punishment, but the fines are being published as high as $10,000 per SMS/instance.
What if I change SMS software providers?
Well, to ease your mind, you won't have to resubmit all of your brand and campaign information again, your information can transfer to the new provider, but you will need to let your new provider know that you have campaigns already registered, and provide them the Campaign IDs (mostly for their reference). The carrier will already know who you are.
What if I don't have an EIN?
That's ok, the sole-proprietor is the perfect category for you, if you're expected daily send is less than 3000 messages. But TCR has been selected to do the research on all company verifications…and will make you reverify if they find that you actually do have and EIN…so providing the most accurate information is crucial.
Can I have more than one 10dlc (phone number) per campaign?
Yes, you can have up to 50 numbers per campaign, anything over that must have additional vetting, or another campaign registered for the remaining numbers.
Why was my registration rejected?
Of course there's a lot of possibites on this one, but the most common are: 
The EIN can't be found, or doesn't match the legal name of the entity provided. The complete legal name isn't the in-full or correctly spelled…yep, gotta add the LLC or the Inc. or whatever the company was legally filed as. 

If it's publicly traded, we must have the correct stock exchange information.

Or the use-case and the messages don't align at all.
Can I do anything to get a better vetting score?
Yes, you can pay to have additional vetting done from one of the provided options through TCR, but check with us first…we've registered a lot of companies, and we'll be able to tell you if we think the number will be/could be improved.
What if I've registered and my messages still get blocked?
We will be right there to help investigate it, sometimes there are tricks and tips that we can share to try first, like:
Is your url identifiable? Can the recipient see exactly where the url is pointed and if it belongs to the sender.

Shortened urls are normally acceptable if they are branded

. 

Where is the phone number or URL within your message? Try to avoid putting them at the end.

Did you change your message from the provided campaign registration information?

Etc…but, if those don't work we'll be in contact with TCR or the carrier to see what can be done to help rectify the problem.
Whether you choose to go with option one or option two, Red Oxygen wants your registration process to be as painless and seamless as possible. Let us know if you're having any concerns or questions along the way.