7 Benefits of a CRM and SMS Integration
Integrating your short message service (SMS) with a customer relationship management (CRM) system can help you gather customer interactions in one central place—streamlining workflows and improving the overall customer experience. As a business owner, the integration provides a seamless process, eliminating the need to constantly check data or personalize messages. Once synced, your data will gather in one place, and you can even text from the CRM platform directly.
An SMS CRM integration can help you streamline your workflows, personalize customer communications and ultimately enhance the client experience.
1. Streamline Workflow
One of the most significant benefits of SMS CRM integration is the ability to reduce your workload by automating workflows. Integrating your CRM and SMS means bringing together texting, allowing clients and employees to stay updated with the latest account information. It also means using text messages as automatic reminders for clients of upcoming events or pushing instant notifications to employees regarding their assignments, tasks or meetings. 
Adding SMS texting to your current CRM can help you eliminate repetitive tasks while simplifying those that remain. You might add messages to workflows to reach out to leads and customers on multiple channels, increasing engagement. You can also send out automated messages based on custom fields. 
Streamlining these outreach campaigns can help you focus on forming stronger relationships with customers when they respond to your messages. You might schedule messages that enter your CRM database for delivery or disperse them in real-time—either way, you'll keep your clients happy and help employees close more deals. 
2. Attract Leads 
Another benefit of SMS CRM integration is enhancing your marketing campaigns to attract leads or customers. Using mass texting, marketers can quickly communicate product tips, event details or updates to their customers. CRM custom fields will automatically be inserted into outgoing messages by your messaging platform. You can also implement messaging campaigns to keep in touch with leads on your chosen schedule. 
Faster response times increase conversion rates. The data shows that contacting a lead within five minutes increases engagement and the chance for conversion exponentially. Integrating your existing CRM for texting ensures you respond to customers faster and more efficiently. 
3. Promote Customer Engagement
SMS CRM integrations make it easier to engage with clients. As 97% of Americans own a cell phone, it only makes sense to use SMS and CRM to enhance this form of communication—effectively reaching customers across varying demographics and geographic locations.
For instance, you can automate your follow-up texts after client interactions using these platforms. Your SMS can send out a survey or note to clients after determining a CRM ticket has closed. You can even add custom fields to your messages, personalizing them to enhance the customer experience. 
With automated SMS, you can engage with customers in a timely and personalized manner, improving your customer satisfaction. 
4. Get Automatic CRM Information Updates 
In the past, sending a text message and updating your CRM records were separate tasks. But when you combine CRM with SMS solutions, the technology will intuitively translate conversations into CRM leads while updating customer accounts automatically. That means you no longer have to keep separate windows open or worry about copying and pasting or editing multiple systems. You can seamlessly integrate each new conversation with your CRM of choice.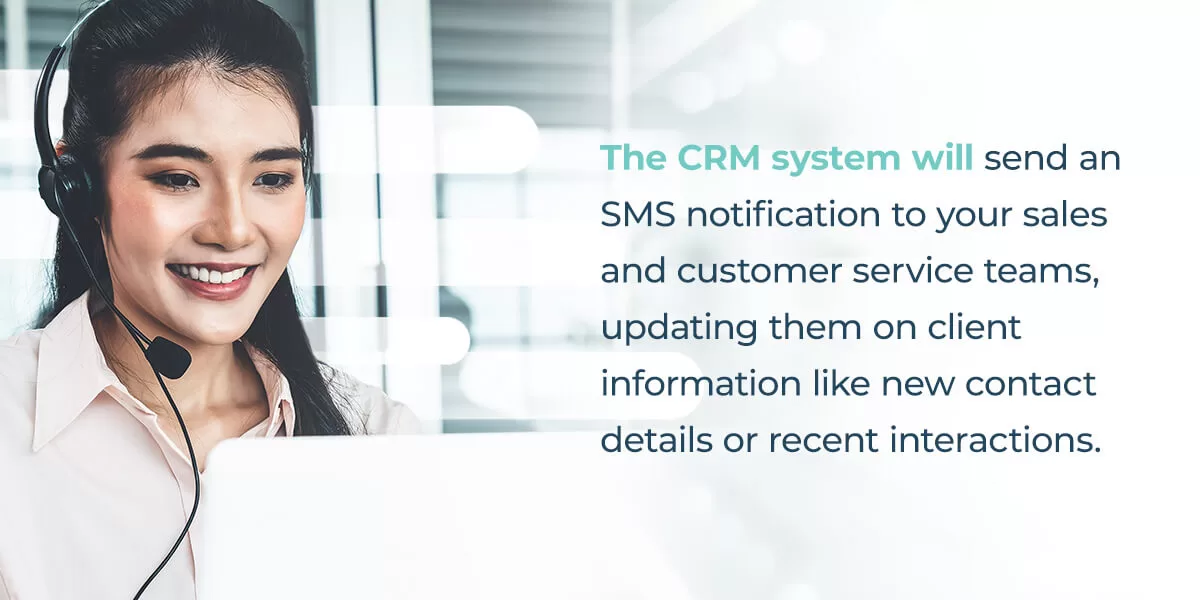 The CRM system will send an SMS notification to your sales and customer service teams, updating them on client information like new contact details or recent interactions. Real-time information allows your teams to work with the most current data. 
5. Enhance Marketing Campaigns
Create messaging campaigns within your CRM messaging tab and review custom fields like purchasing habits, product interest and more. From there, you can send targeted texts to customers who follow similar trends, improving your marketing campaigns.
Your SMS platform will facilitate real-time interactions with inbound leads while allowing customers to follow up and request appointments quickly. Integrating it with CRM means more segmentation options for retargeting or promotional campaigns. You might provide loyalty rewards to existing customers while offering welcome deals to new ones simultaneously. Marketing automation allows you to create personalized customer messages and influence their decision-making to shorten the sales cycle.
6. Drive Collaboration 
Integrating CRM with SMS communication can drive collaboration within your organization by allowing seamless conversations and information sharing. With real-time communication, integration can facilitate quick responses to customer inquiries, lead updates and coordination among team members.
You might implement a contact center solution, allowing agents, employees and help desk teams to conduct scale-based SMS conversations. Integrating CRM and SMS means each of your employees has a singular view of the customer—making it easier for departments to collaborate. 
Your business can respond faster and save time by allowing various agents to contribute to customer service within a single group thread. This becomes a more effective and streamlined approach than maintaining separate conversations among single agents or digging through a series of disparate texts or emails.
7. Increase Revenue
Utilizing CRM and SMS software can increase your revenue. The CRM software market is one of the fastest-growing industries right now and is estimated to grow at a rate of 13.9% from 2023 to 2030—driven by customer demand for better service and automated engagement.
An SMS CRM integration can help you maintain stronger customer relationships and close sales. Using the CRM interface, you can quickly locate and reach out to clients needing to be re-engaged with a personalized note. You can also send out automatic customized follow-ups to enhance engagement. When the CRM system records the completion of a demo, the SMS platform can automatically send follow-ups to customers. 
A streamlined workflow also means reaching more customers in less time, increasing your productivity and the number of new leads and prospects you connect with. Ultimately, you can use an SMS CRM  integration to create stronger client relationships and more conversions. 
Streamline Your Workflow With Red Oxygen 
Integrating your CRM with SMS texting is an excellent way to streamline your operations and enhance the customer experience. At Red Oxygen, we've been refining our SMS business solutions for over 20 years, offering convenient, versatile and easy-to-use texting systems to save your organization time and help your teams work more effectively.
Quickly write texts from your web browser, receive responses in your email or integrate your system with your CRM platform. However you choose to communicate with your employees and clients, we have you covered. Appreciate 24/7 global support and robust off-the-shelf tools to quickly integrate SMS and CRM to increase workflow and boost productivity.
Request your free trial today to get started and see our solutions in action.