Today, people are constantly checking their push notifications and scrolling on their phones. In 2021 alone, Americans sent and received a whopping 2 trillion text messages. Businesses are learning to take advantage of the time and attention consumers spend on their mobile devices with text blasts.
Some short message service (SMS) providers allow businesses to send text blasts to large groups of people. Mass texts offer an effective way for you to reach your customers or employees with important news, updates or deals in seconds.
We are breaking down text blasts and how your business can use them to your advantage.
What Is a Text Blast?
A text blast refers to sending a single message to a large number of recipients at once. They are also referred to as bulk SMS and can support your business communication and marketing efforts.
Text blasts allow you to reach customers in a timely manner, and you can set schedules for sharing text blasts in the future to ensure your recipients are always up to date on the latest.
Using Text Blasts for Your Business
Text blasts can be a convenient and practical tool for your business.
Keeping your team and customers on the same page is easy with bulk texting. Some popular text blast examples for businesses include:
Emergency alerts.
Important updates.
Sharing staffing updates.
You can even use text blasts for more personalized purposes, such as sending reminder messages to everyone with appointments booked for that day. The same is true for sharing authentication codes or payment reminders for bill due dates. Your business can personalize names, dates and more to engage customers with bulk SMS.
Organizations in a wide variety of industries can benefit from sending text blasts, including the following:
Financial institutions
Health care facilities
Hospitality
Government agencies
Religious groups
Retail stores
Law firms
Nonprofit organizations
Car deals
Educational institutions
Fitness centers
How to Send a Text Blast
The best way to utilize text blasts is with the help of a business SMS, like the one available from Red Oxygen. Your company can generally choose one of three methods to share a mass message with its customers or team.
A stand-alone bulk SMS solution is one choice. You can utilize this software by installing the tool with your email service and importing your company's contact lists. From this list, you can organize certain groups to receive specific messages. You can fill out custom templates with important information from your business. Then, users will create schedules for their text blasts to go out to each recipient.
Another option is integrating SMS tools with your existing member management, customer relationship management (CRM) or enterprise risk management (ERM) software. Integration is easy and offers the same scheduling capabilities as stand-alone tools.
Your business can also send a text blast through a texting provider's online platform, such as Web SMS. First, you upload your contact list to the platform. Then, you compose your message and determine which people on the list you want to reach. Once complete, you can either send the text blast immediately or schedule its delivery for a later time and date, all from the convenience of the Web SMS platform.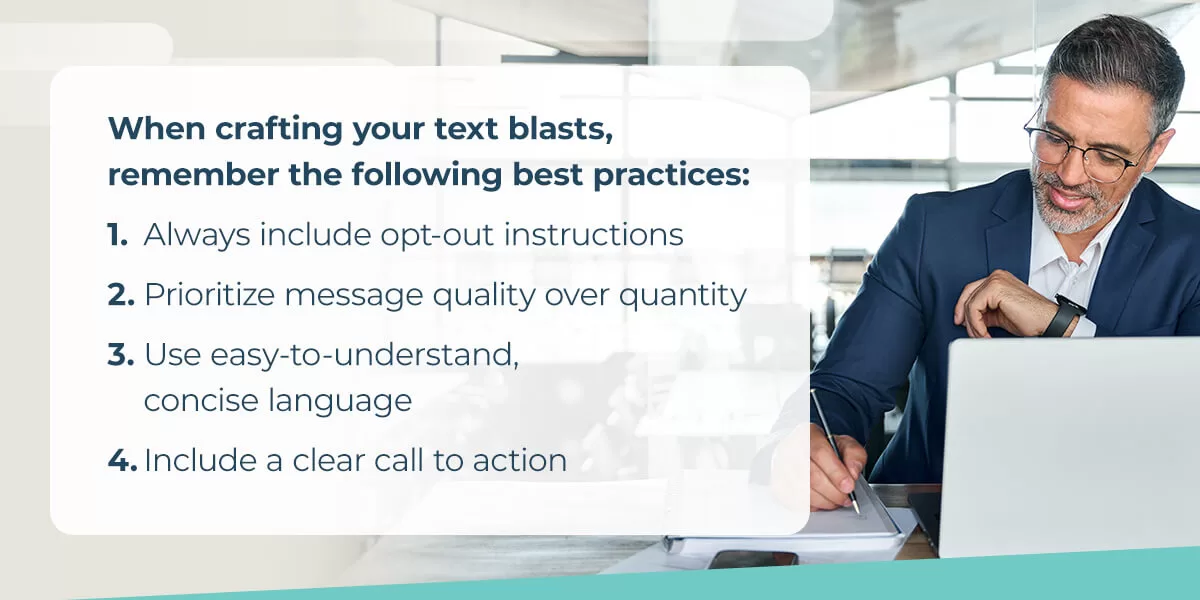 When crafting your text blasts, remember the following best practices:
Always include opt-out instructions
Prioritize message quality over quantity
Use easy-to-understand, concise language
Include a clear call to action
4 Benefits of Using Text Blasts for Your Business
Text blasts are an effective way for businesses looking to connect with their customers or staff in seconds. Explore the following benefits of using this type of tool:
1. Streamline Customer Communication
One of the greatest advantages of sending bulk SMS is making customer communication easy. Your business can directly reach hundreds of individuals at a moment's notice.
Your team can save considerable time, money and energy by using text blasts to keep people updated on the latest about your business. Plus, your customers will appreciate the convenience of getting a text–no need to answer the phone, sort through their email inbox or log into a website to learn what's new.
2. High Visibility and Open Rates
Bulk SMS is particularly beneficial for businesses because consumers check their text messages very often. In fact, text messages have an unbelievably high 97% open rate, so you can safely assume your recipients will see your message.
High open rates can also mean that you are likely to get responses from your customers more efficiently, too.
3. Highly Cost-Effective and Efficient Communication Channel
Another benefit of using text blasts is that SMS is a cost-effective means of communication. Your team doesn't have to spend valuable time and money crafting hundreds of messages–they can create easy-to-update templates and utilize automation to reach hundreds of people with the click of a button. After sending your text blast, recipients can see and interact with the message instantaneously.
Text blasts can also save your team time because they're short-form, unlike emails. SMS solutions generally limit messages to just 160 characters. In some cases, you can use more characters, but the texting provider may split longer content into multiple messages.
By using text blasts instead of other communication channels, your team won't spend unnecessary time carefully crafting and designing longer content that recipients are likely to ignore or abandon before fully reading. Instead, your crew can write concise, to-the-point texts that will garner more attention without wasting anyone's time—neither your team's nor your audience's.
4. Use Personalization to Engage Customers
A huge perk of text blasts is being able to use special data tools to personalize each message with information, such as:
Names
Birthdays
Pronouns
Previous purchases
Personalization in bulk SMS is incredibly important for engaging your recipients. A simple detail, like using their first name in the greeting, can encourage people to open the notification and interact with your message. When using personal information in your texts, always be sure to respect the customers' boundaries and privacy.
Contact Red Oxygen to Learn More About Bulk Text Messages
If your business is interested in reaping the benefits of sharing text blasts with your customers, turn to Red Oxygen.
Your business can create and send bulk text messages in two ways. Our stand-alone solution, Bulk SMS, is dynamic mass texting software that is easy to install and allows you to reach hundreds of people at once. Our SMS Gateway API integrates seamlessly with your existing ERM or CRM.
Are you ready to get started with bulk text messages? Contact Red Oxygen or schedule a demo to learn more today!