Leveraging SMS as part of your marketing strategy should be simple and convenient. Your system should work seamlessly with your operations and help your company enhance client and employee communications. Whatever your business goals, knowing how SMS marketing works and how to apply it in your company can help you move forward.
You want solutions you can depend on, and SMS can help you revolutionize your business operations. What basics do you need to know for successfully implementing SMS business marketing? Explore some of the critical tips from Red Oxygen and get started using this tool for yourself.
What Is SMS Business Marketing?
Otherwise known as Short Message Service, SMS is a text messaging feature through almost all mobile devices and the internet can transmit information. Because texts are delivered directly to mobile phones and other devices, people usually read them significantly faster than emails. Businesses can use SMS services to send messages to their employees regarding scheduling, training updates and important notices but they can also reach out to customers; allowing them to view and respond to messages at their convenience.
With an SMS marketing approach, your business can communicate promotional offers, updates and other important information directly with clients over text. You can send a message through your Gmail or Microsoft 365 Outlook accounts or the Red Oxygen Web SMS site for fast, easy delivery. You might offer links or additional details to encourage clients to start shopping, sign up for a membership or take another action. Used strategically, text messaging makes your business's marketing materials more convenient for clients and employees to access.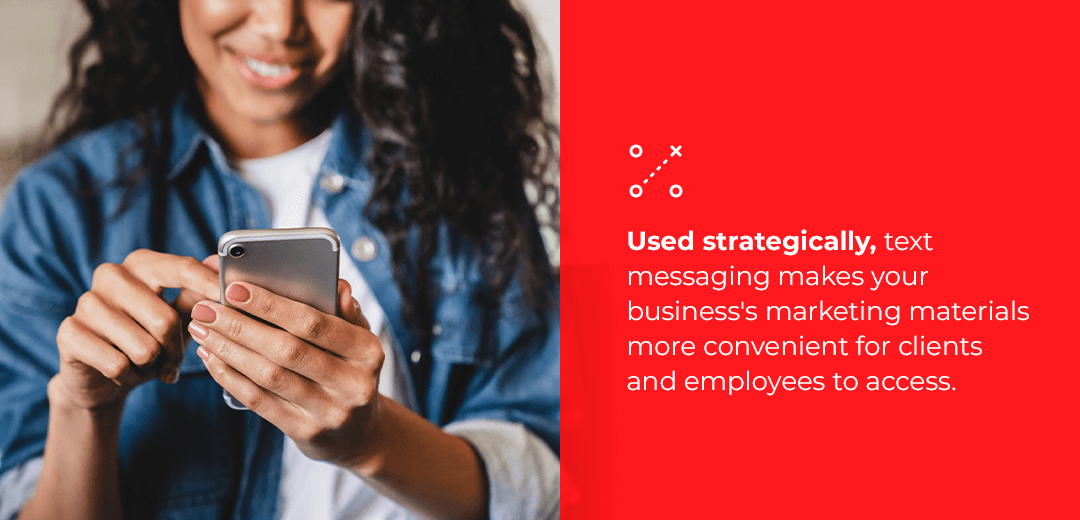 Advantages of SMS Marketing
Using SMS for marketing efforts can offer your business a wide range of benefits. You can leverage this technological solution to gain advantages like these:
Complements your overall strategy: SMS conveniently enhances your comprehensive marketing strategy, offering you another avenue to reach clients.
Offers highly accessible information: By texting details directly to your clients' mobile devices, you can more easily get their attention and encourage them to respond.
Extends your business's reach: For some customers, texting may be one of the only communication methods they'll see regularly. Using SMS as part of your marketing strategy helps engage a broader audience.
Best Practices for SMS Marketing
You want to implement SMS marketing as effectively as possible. Keep a few best practices in mind to help you use this approach strategically.
1. Get Contact Consent
Before sending any messages, verify that you have the recipients' express written permission. You must follow all regulations outlined Telephone Consumer Protection Act (TCPA). This regulation controls all outbound telemarketing calls sent to third-party generated leads and prevents unsolicited calls. You'll also need to meet disclosure rules related to your services and communication with each customer.
2. Offer Value for Your Clients
Prioritize offering valuable content to your readers. Take time to know your audience and consider their top needs and interests. Evaluate how they will relate best to your services. If you present exciting offers and valuable information, clients will be enthusiastic about receiving communication from your company.
3. Create Personal Content
Another way to craft successful SMS messaging is to personalize it. Develop content that shows recipients that a human is on the other side of the line. If your message is customized and personable, clients are far more likely to respond to offers and CTAs. You can also add a personalized signature so that they know who's sending the message.
4. Time Messages Strategically
As part of obtaining consent to contact your audience, expressly state how often you will send out messages. While many people filter emails automatically and may not mind receiving more frequent communication, they might not want to receive many texts. Be sensitive to their time by limiting texts to an average of one per week or less.
5. Manage Replies
Whether you send out one-way texting or offer an option to reply, some recipients may automatically think they can respond by text. To stay on top of any potential questions or issues, regularly track incoming inquiries and manage replies efficiently. When you engage with your audience and help address their needs, you can build trust and foster a better business-client rapport.
Find out More About Our Services
At Red Oxygen, we have solutions that can work with your existing CRM or database, adding SMS capabilities without having to change software. Or sending messages in bulk? We make it easy to personalize these messages for an even higher read-rate. We're a one-stop shop to help you better engage your client base through seamless SMS business solutions.
Start your free trial today to consult with our representatives and get more information on our solutions.