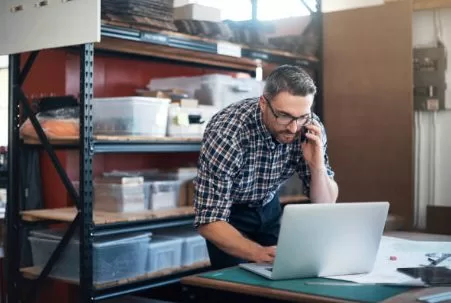 Small businesses can get a lot of bang for their buck with text messaging…
Maybe you have a marketing director, maybe you have a communications person, a customer service person or a social media manager, but it's very possible, if you're on the S side of the SMB world that you might not have all four. This is where SMS can swoop in and save the day…or at least make it a bit easier. It's user friendly, budget conscious and the most effective way to communicate with employees and customers with its 98% open rate.
Why a small business should use SMS
Business texting is in full swing; you've received that text from your auto mechanic to let you know that your car was ready, or maybe your favorite florist sent a text to remind you that your Mom's birthday is coming up, you can do the same for your customers.
You might not work with cars or flowers, but you probably work with customers, patients or employees in some way, and need a way to easily and efficiently keep them in the know. SMS perfectly fits the bill for small business, for pennies you can send business messages that inform, advertise, remind, alert, and even help heighten security for you and your business.
How to use SMS as a small business
Marketing:
No big advertising budget required, you can still get in front of current or prospective customers without it. Send reminders about upcoming sales or offer a discount if they show the text at the check out. But remember to personalize the message. Using the recipient's name is great, but partitioning your customers lists by product interests or by the services they most commonly buy will help to ensure the messages are meaningful to the customer.
Customer Service:
Many think of 'Text Marketing' as the only reason to use business SMS. True, customer service is a form of marketing for your company. If customers receive great customer service they'll likely plan to buy from you again. Sending text messages is the perfect way to keep customers updated without interrupting their day, or making them call back to get more information.
Staff communications:
Small businesses don't have time to waste if someone calls off of a shift during a busy weekend, use business SMS to send a message to a distribution list of your employees that might want to pick up a few extra hours. One bulk text to 10 people, but you're the only one that will see the replies…no endless back and forth like a group text.
Human Resources:
Finding the right employees that will treat your small business as they'd treat their own, is hard to find. Scheduling interviews and answering candidates' questions is quick and easy, no need to write formal emails. SMS is short and simple (says so in the name), so responses can be too without offending the recipient.
Benefits of business SMS for your small business.
Cost savings:
Texts are pennies to send and you have a 98% chance they'll be read, unlike email that has a 12% open rate.

No designer needed.
Time savings:
No lengthy copywriting. It's even best to keep your messages around 160 characters.

Schedule ahead of time, so you only have to carve out a few hours but still send messages all month.
Convenience:
Replies are stored in your email inbox (if you mark the checkbox to do so), and you can reference them at a future date.

You're not using your personal phone number.

Postcards get lost in the mail, SMS deliveries are never further than an arm's length away.
Your business is important to you, no matter the size. And your messages are important to us no matter the quantity. Red Oxygen has off the shelf software that makes it easy to manage your SMS communications in one spot, schedule future messages, store message templates and recipient lists, and send one or thousands of personalized messages. Our API can even  integrate with your CRM to automate messages when triggered. 
Optimize texting for your small business communications without a whole staff of people to make it happen, would you like to find out how? Book a demo with Red Oxygen today.