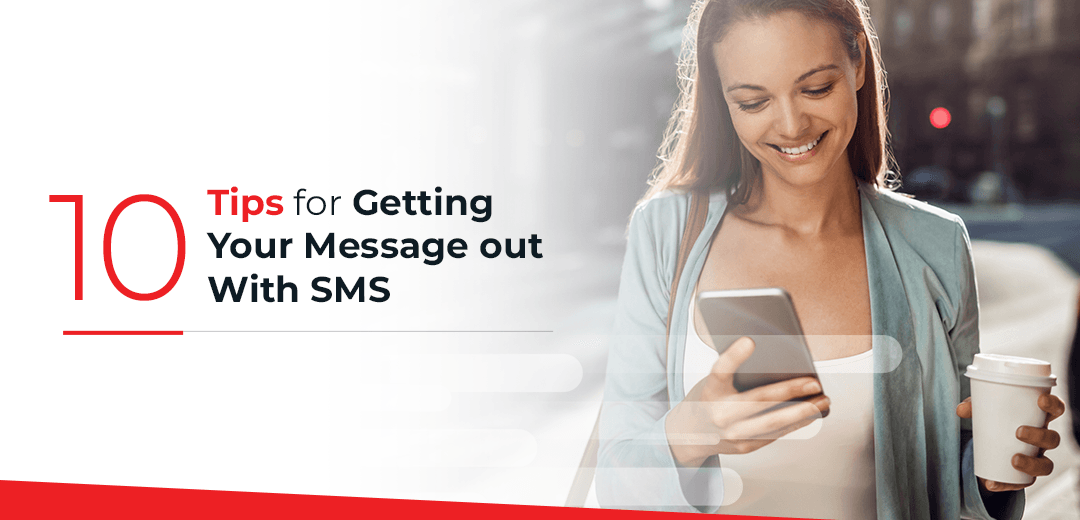 Text messaging is the most used data service in the world. People around the globe send 8 trillion texts every year—more than 15 thousand texts every minute of every day.
Emails often get lost in the glut of messages received every day. But people tend to look at and respond to texts as they come in. So communicating with SMS is an excellent strategy for reaching your customers, capturing their attention, and increasing message impact. Below, you'll learn the best practices for marketing texts and some effective SMS marketing tips.
What Is SMS Marketing?
SMS marketing involves using text messaging to get your customer base excited about your products or services. Deploying SMS in your marketing campaign gives you a practical, versatile tool for reaching customers. It's inexpensive, and it is extremely convenient to use because of how easy it is to automate. You can pull data from a detailed spreadsheet of personal info, like customer names or last appointment date, to tailor and personalize your message.
SMS marketing provides your business with fast message delivery and leads to high open and response rates. It allows you to increase brand awareness and boost customer engagement, as well. You can also use SMS messages to communicate with your customers even if you're not marketing your products and services directly.
10 Tips for Successful Text Message Campaigns
Running a successful text message campaign can make efficient work of reaching your customer base. Below are some of our best SMS marketing tips:
1. Craft Personal, Purposeful Messages
One of the best business texting tips involves a personalized, goal-oriented approach. In reaching out to your client base, you want to provide essential information and boost your sales—but you also need to respect your customers' time. You don't want to spam them with messages they'll delete as soon as they receive them.
Be sure to craft personal messages with a clear goal in mind. Address your customers by name and lead with deals or promotions you genuinely believe they'll find interesting. A personal message can cut through the generic ones your customers receive, putting your business at the front of their minds.
2. Allow Users to Opt-In or Out
Another of the most critical SMS tips is to give your customers control. Give them some say in the communications they receive with opportunities to opt-in and out of your SMS messages so they won't feel spammed.
When your customers sign up with you, give them a box to check, confirming they'd like to receive texts about deals, promotions and general communications from your business. You should also give them a way to opt-out—by texting STOP—if they change their minds.
3. Provide a Clear Call to Action
Most of us have numerous conflicting demands on our attention these days, especially on our phones. You'll need to give your customers a clear action to take right away, or they may close your message and forget about it.
To increase conversions via SMS, provide a concrete call to action (CTA) in each text. A few promo text message ideas for CTAs might include a "learn more" or a "see a selection crafted just for you" link to entice customers to click through, but make sure to use the full URL, link shorteners like bit.ly will more often than not be flagged as spam.
4. Offer a Special Deal or Promotion
When you send SMS messages to readers, you're claiming some of their valuable personal time. You'll need a way to make the interruption worth it. One of the best ways to do that is to offer the customer an exclusive reward. Text your customers with the details of a special, limited-time offer they truly can't pass up, and you'll likely be on your way to increased sales and loyalty.
5. Be Mindful of Message Frequency
Feeling excited about the great deals or opportunities you have to offer your customers is natural. But texting too often can make customers feel as if you're imposing on their time and attention.
Fortunately, you can often prevent that reaction by being mindful of how many messages you send. Instead of texting your customers every week, try scaling back to once every few weeks, sending only your most exciting offers or updates.

6. Keep Messages Clear and to the Point
Your customer base may have busy schedules and little time to spend reading promotional texts. Clients need to be able to skim your message and get straight to the point. To do this, make your SMS texts short and sweet. Dive right into what you have to offer and why your customers shouldn't miss the opportunity. Keeping the message under 160 characters will ensure it doesn't get split into more than one SMS…you all know what its like when the 2nd half of the message shows up before the first half…irritating, right?
7. Offer Automatic Replies
Sometimes, your customers will want to respond to your SMS texts by typing a message back. Try your best to continue the conversation live, only if a live person is unavailable have automated responses set up to acknowledge their communication.
The replies don't need to be lengthy or complicated. You might simply set up an automatic message saying, "We've received your feedback." Taking this extra step makes your customers feel appreciated by assuring that you're listening to them.
8. Account for Time Zones
Even the most dedicated customers would prefer not to have texts awaken them at 5 o'clock in the morning or interrupt their bedtime routines. Be strategic about sending messages when your customers are most receptive to them.
Consider gathering location information when your customers register with you. You can then use that data to send targeted messages during more convenient times of day.
9. Mix Automation With Personalized Responses
One major benefit of using SMS communications is the convenient automation features. But mixing in a personal touch allows you to connect with your customers more deeply and cement your reputation for going above and beyond.
Say you run an auto shop and you send SMS messages to your existing customers. You advertise a discounted tire rotation, oil change and vehicle inspection package. Some of the recipients call to schedule appointments, and a few of them text you back, asking what dates and times are available. Respond to the texts individually to help your customers schedule their auto work without needing to call. They'll appreciate the convenient, personalized attention and be more likely to stick with you as a service provider.
10. Use a Digital Platform to Streamline Your SMS Messaging Strategy
To get the most value from your SMS marketing strategies, use a digital platform that allows you to send messages right from your computer and tailor them to your customers. At Red Oxygen, we offer convenient options for sending SMS marketing texts:
Bulk SMS: Our Bulk SMS solution is ideal for sending a large number of personalized messages. You'll be able to customize your messages easily so they make it through anti-spam filters and appeal to your customers personally.
Web SMS: Web SMS solution offers exceptional convenience. Use this service from anywhere without installing software on your device. It works on any operating system or browser, too.
Gmail SMS, Office SMS, Office365 SMS and Outlook Mobile Service: All of the Red Oxygen email options allow you to send messages without leaving your favorite email interface, and receive replies directly into your email allowing you to easily store conversations in folders as you would any other email correspondence.
Our services also offer numerous legal and usability features like these to make your SMS messaging more convenient and personalized:
Blacklisting
Traceability
Message threading
Dedicated numbers
Call forwarding
HTTP sending
Autoreply
SMS Messaging Services From Red Oxygen
Now that you know some successful text message tips, implement them by contacting Red Oxygen for convenient, effective SMS message solutions. Over 20 years of experience have made us a trusted brand worldwide and given us the industry insights to deliver the best results for our partners.
When you work with us, you can start sending SMS messages today without having to hire a developer. Send bulk or individual messages easily because our platforms are simple to use with existing infrastructures like Outlook, Gmail, Excel and SharePoint. We support all versions of Microsoft Outlook, as well as Outlook Mobile Services (OMS) and Microsoft Global Address Lists (GALs). You'll be able to integrate our services seamlessly with your existing technology.
Start your free trial today, or contact us to learn more about SMS communication.