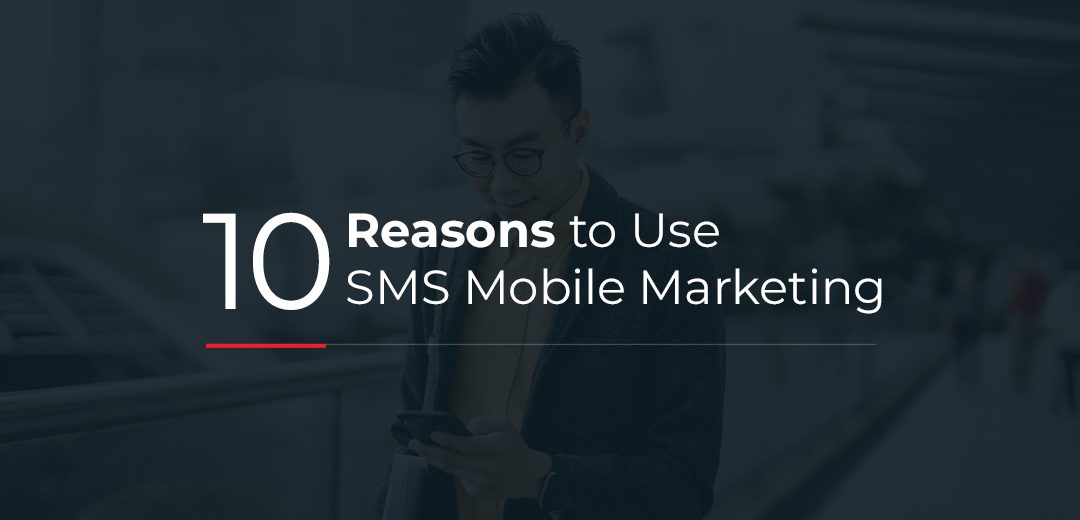 With the ever-present use of cell phones, smartphones and flip-phones alike, the rise in  SMS mobile marketing was inevitable. The efficiency and effectiveness of these SMS text message marketing services and wares of your favorite stores and brands is huge compared to the minimal cost and effort of sending the message itself. It's an excellent way to engage existing customers with reminders and other quick marketing messages. If your company has been looking into text message communication, here are a few good reasons to test it out.
1. Affordability
SMS marketing is one of the few advertising outlets, apart from flyers and shouting out of your window, that is open to all companies with all levels of financial acumen. The cost to send out a text is pennies. Plus, with monthly plans and prepaid bundles, companies can pay only for the number of messages they need.
2. High Rate of Return
An extremely affordable marketing tactic like texting translates into impressive returns. Even if sending your latest promotion to thousands of customers only makes a few sales, you've generated a successful return. After all, those few dollars invested in SMS marketing services could mean hundreds of dollars in revenue with just a few sales. And since your cost per message goes down when you text more people, the ROI grows as your audience does.
3. Text Messages Arrive Instantly
Unlike placing an ad in a newspaper, magazine or website, or sending out flyers via snail mail or carrier pigeon—which can take months to train—the simple act of sending a text takes no time at all. When you use SMS marketing software, you can personalize and send texts to thousands of customers in almost the same amount of time it takes to text just one person. Either way, it's delivered within seconds, most often quicker that email.
4. People Read Text Messages
As we've discussed time and time again, people do read their text messages. They open them and read them all the way through, and there is no spam filter to overcome. The average person checks their phone 96 times a day, or about once every 10 minutes. Within 15 minutes of delivery, 97% of your texting subscribers will have read your message. That kind of open rate is practically impossible with email—just look at all the unread and deleted messages in your own inbox.
5. It's Not Intrusive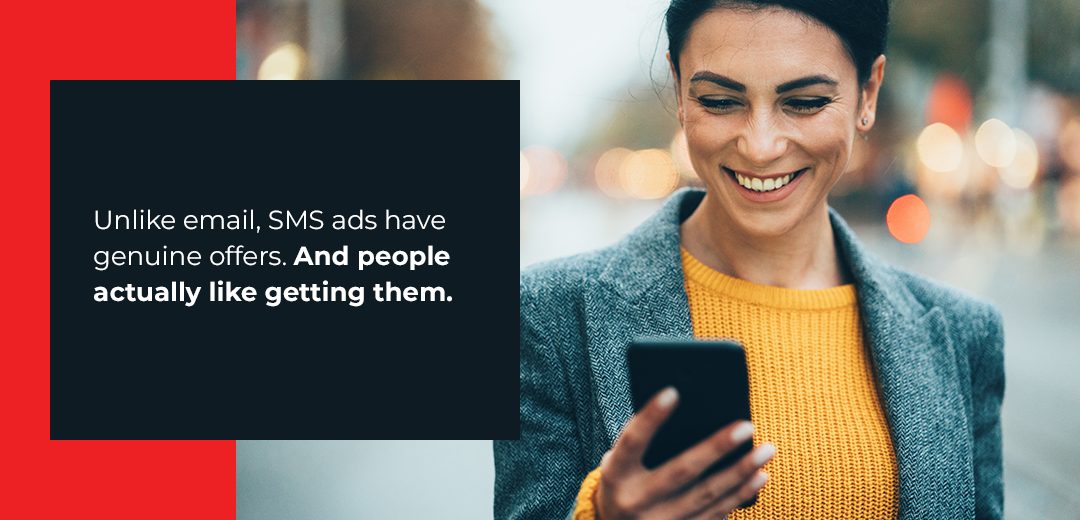 Unlike email, where your inbox soon fills up with spam concerning princes in Nigeria with atrocious grammar, SMS ads have genuine offers. And people actually like getting them. This is because they have opted in and given you their phone number. They also know they can opt out at any time by texting a word to a specific number.
6. It's to the Point
A text is never an essay. Your customers won't feel like they've been bombarded by an email rivaling "War and Peace," or have to search through the fine print located at the bottom of the ad to see what is actually on offer.
7. Everyone Has a Mobile Phone
These days, we all have smartphones—even your grandmother. And we are always on them. The average American spends roughly 3 hours and 30 minutes on their phone each day, which is the same time investment required of a part-time job. Your chances of reaching the right people at the right time are incredibly high.
8. It's Green
Do you know how many flyers, magazine and newspaper ads end up in landfills every year? Well, neither do I, but I bet it's a lot. I'd even go as far to say it's a surprisingly large amount. Whatever the number is, you can cut down on paper waste by moving into SMS marketing.
9. It's Trackable
Unlike ads in the paper or direct mail flyers, text messages are digital and trackable. You can view precisely when you sent any message and when your customers reply. Plus, an SMS marketing tool will give you loads of valuable marketing metrics. View your sign-up rates and other actionable statistics with ease.
10. You Can Generate Leads
With SMS marketing, you can grow your contact list quickly with a text-to-subscribe feature. It lets users text a number with a keyword, like your brand name or another easy-to-remember word and easily sign up for your text alerts. It's fast and easy, meaning you can generate more leads than you might with a complicated sign-up form that asks for an email, place of work, phone number, fingerprints and an official birth certificate.
Try Out Red Oxygen Today
Red Oxygen makes it fast, easy and affordable to send text messages to your customers. With us, you can personalize your text messages to every customer, in bulk or one-to-one, have two-way conversations to engage customers, send them from a dedicated number and much more. To discover how simple it is to start SMS text marketing, sign up for a trial account from Red Oxygen today.