If you're sending out business SMS messages, protect your company from expensive lawsuits and fines by staying abreast of the mobile SMS rules in your area. Here are 10 simple rules for SMS senders, recommended by the Cellular Telecommunications Industry Association (CTIA) and Australian Communications and Media Authority (ACMA)'s best rules and practices.
1. Request Consent
Perhaps the most important part of SMS compliance is requesting consent from customers verifying that you have their permission to send them text messages. Make sure that this written consent is clear and conspicuous, leaving the user with no questions about what they're signing up for.

2. Recognize the Sender
Let the customer know who is sending the message. This is important to avoid confusion with wrong numbers or forgetful subscribers. Also, remember that as the sending company, you are responsible for the text messages and content.

3. Describe Your Intent
If the opt-in is via text, you'll need to send customers a short description of what messages they will receive. This limits confusion and establishes formal perimeters for future messages.

4. Tell Them the Cost
Free and premium text message companies should be upfront and to make subscribers aware of any costs to receive SMS texts. Even if your service is free, it's good to let them know that their standard text message rates may apply.

5. Respect Time Boundaries
A simple SMS rule that goes a long way is being mindful of when you're sending messages to subscribers. Customers may become frustrated when they receive texts in the middle of the night or too early in the morning—and understandably so.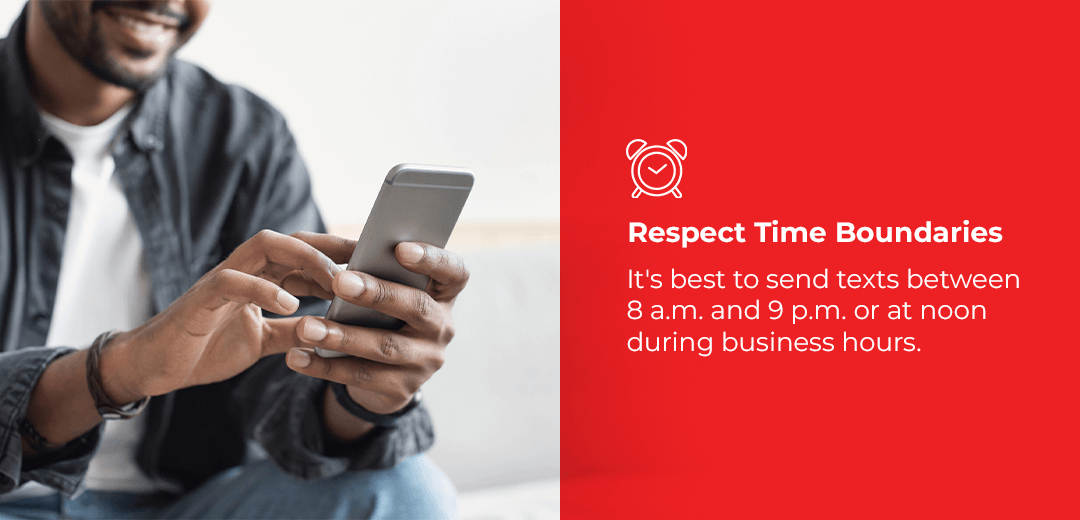 You can avoid waking up customers and remain compliant by sending SMS messages during reasonable hours in the subscriber's local time zone. It's best to send texts between 8 a.m. and 9 p.m. or specifically at noon during business hours.

6. Choose Content Wisely
When sending simple SMS messages, make sure they contain content that readers will find important, helpful and appropriate. Every text you send should be beneficial to the customer in some way. Express your message thoughtfully and concisely to maintain their attention and support. It should also go without saying that your SMS messages should be free of content about violence, illegal activities or adult material.

7. Explain How to Opt-Out
Remind customers that they have opted for the service (and that they are not receiving spam by providing an easy exit. Make sure the customer's information is updated frequently or automatically through Red Oxygen API or other methods to quickly comply with customer needs. Once you receive an opt-out notice, you must confirm that you've received the opt-out and that they will not receive any further communication.

8. Add Opportunities for Further Connection
Give customers a chance to connect with you for more information. Depending on what option is cheapest with your SMS plan, you can offer to text, visit a webpage or call a phone number for more information.

9. State the Privacy Policy
You can ensure that subscribers are aware of how you're using their data by including your privacy policy in your text messages. This statement should consist of an accurate description of how you use customer data and phone numbers. You can accomplish this by simply adding the link in your call to action.

10. List Terms and Conditions
Protect yourself by giving customers the terms and conditions of the text message agreement. If they are subscribing online, make sure they have access to a digital copy. If they are subscribing via SMS, make sure you provide a link to the terms or let them know where to find it.
However, if the sign-up form is online or print form rather than an SMS, its best to have it confirmed via SMS as well.

Note: You don't need to send all the information in every message if you are sending recurring SMS message programs, but you should occasionally remind customers about the terms of service periodically.
Maintain SMS Compliance With Red Oxygen Today
You can remain compliant with simple SMS regulations to ensure customer satisfaction and protect your company with Red Oxygen. We've spent over 20 years providing SMS solutions that enable clients to deliver text messages to any mobile device quickly and easily. Our solutions allow users to send messages from their computers to seven billion devices worldwide using existing infrastructure. We're dedicated to providing our customers with innovative solutions paired with exceptional customer service.
Contact us to learn more about our SMS services today!