In recent years, application-to-person messaging (A2P) has become a more widespread communication method for clients and employees. In fact, the A2P messaging market is anticipated to reach USD 78.2 billion by 2028. A2P allows businesses to send text messages one at a time or in bulk to multiple contacts at once. A customer's response to the message initiates an automatic one-on-one conversation.
Whether you use A2P messaging to send mass SMS marketing texts, two-factor authentication codes or appointment reminders, this method of communication is a cost-effective, streamlined way to reach customers and employees alike. Discover the possibilities of application-to-person SMS and how it can take your business to new heights.
Versatile Applications
No matter the type or size of your business, A2P can provide several benefits for your operations. Here are just a few of the industries that can take advantage of A2P messaging:
Health care: The health care industry can enhance at-home care with A2P messaging by using it to assess patient engagement and send out medical appointment confirmations and reminders, medication reminders and test results.
Banking and finance: Banks can use A2P SMS to send debit and credit alerts, account statements and even fraud alerts to their customers.
Travel and hospitality: Many travel agencies and hotels use A2P to confirm flight or room bookings, reservations and other itinerary updates.
E-commerce and retail: Retail businesses can benefit from A2P SMS for order confirmations, shipment tracking updates, reminders and delivery notifications.
Utilities: Utility companies like water, electricity or gas providers can use A2P messaging to send bill payment reminders, schedule maintenance requests and send operation updates.
A2P messaging is also highly scalable, making it a great form of communication for businesses of all sizes. Whether you run a small company or a large enterprise, you can adapt A2P messaging to your needs.
Efficiency and Automation
A2P offers a fast, efficient way to engage with your customers. Messages are sent automatically without human intervention, allowing for auto-replies when customers message after business hours. For example, if a customer places an order or schedules an appointment, the A2P messaging system can send an automatic confirmation message immediately after.
You might take advantage of A2P messaging to send the following types of messages:
Appointment reminders or confirmations
Emergency alerts
Customer care
Order updates
Billing updates
Internal messaging
Two-factor authentication
Recruitment
Out-of-office messages
A2P can also be used for internal messaging, allowing you to send SMS messages to your employees and enhance communication among fleets, offices, departments or human resources personnel. Overall, automation offers a convenient way to get your messages out faster.
Cost-Effectiveness
Compared to traditional communication methods like phone calls, A2P messaging can be the more cost-effective option. As a business owner, you can appreciate reaching a larger audience at a lower cost per message.
Additionally, A2P can include a response mechanism, offering a number to call if a reservation needs to be changed. This feature has the potential to reduce costly unexpected no-shows.
Wide Reach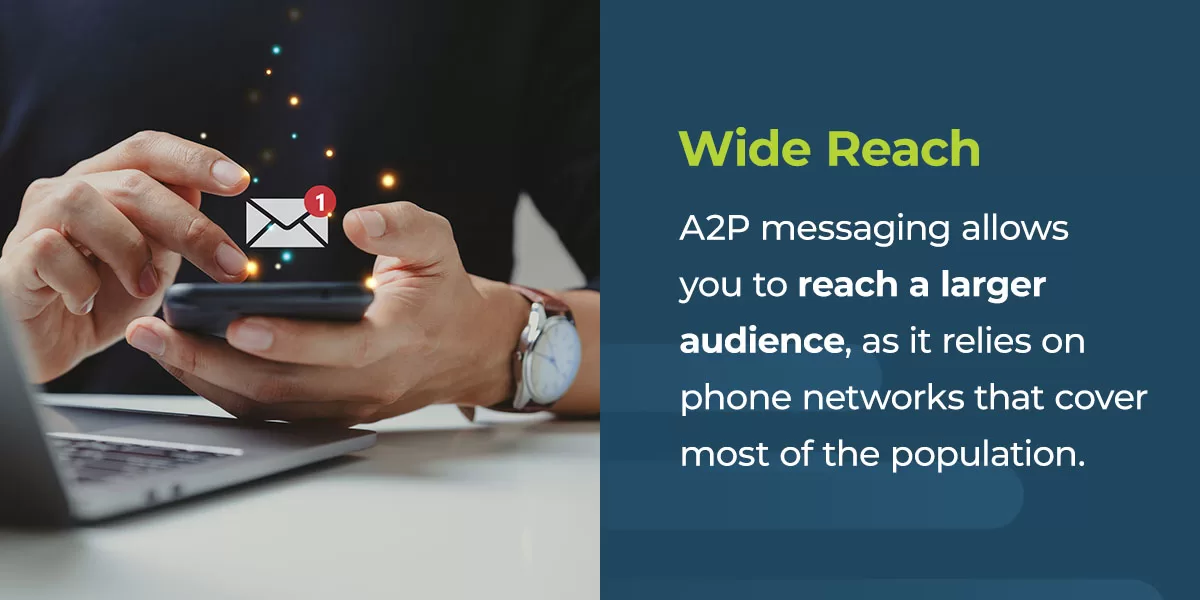 A2P messaging allows you to reach a larger audience, as it relies on phone networks that cover most of the population. With 97% of Americans owning a cellphone, this form of communication makes for an effective way to reach customers and users across varying demographics and geographic locations.
Speed and Instant Delivery
With modern customers having high expectations for speed of service, A2P messaging can enhance customer satisfaction by delivering messages to recipients instantly. That means time-sensitive information like transaction alerts, emergency notifications or appointment reminders can reach your clients promptly.
Studies show that Americans check their phones 144 times a day on average. Australians display a similar level of devotion to their devices, checking them almost eight times an hour, or about once every eight minutes. With that impressive ease of customer access, it only makes sense for businesses to take advantage of A2P messaging.
Enhanced Customer Engagement
Improve the customer experience and enhance engagement by using A2P messaging. The system promotes quick responses and communication with customers, making it highly convenient. You'll be able to respond to customer queries faster and become more responsive in general. This can lead to shorter wait times for your clients and ultimately increase their satisfaction.
You can also use any data you've gained from customers using A2P messaging to segment your recipient list. Organize your client groups by age, location or gender, for instance, to send more targeted messages and thereby enhance customer engagement and the overall experience.
Security and Authenticity
You can use A2P messaging for two-factor authentication (2FA) and account verification. This feature can add another layer of security for your online services and client transactions.
To access their accounts, clients will need to authenticate themselves with A2P messaging before being sent a verification code they can enter along with their regular login details. When integrating 2FA with A2P messaging, you help lower the possibility of unauthorized access while protecting confidential client data.
Additionally, you might integrate one-time passwords with A2P. If a customer loses their password, they can reset it through a message sent via A2P SMS, making it easier to protect themselves from identity fraud.
Customer Service and Support
With A2P, you can also streamline your customer service process. Reach customers wherever they are and at any time—even in remote areas where they may have limited communication access. Doing so can help you increase retention rates, making this capability an excellent tool for improving the customer experience and driving success.
Red Oxygen Makes Business SMS Texting Easy
A2P messaging offers a convenient and effective way to reach customers and employees. When you opt for bulk SMS messaging or another mass communication solution with Red Oxygen, you can enhance customer engagement, streamline operations and improve the overall client experience.
Browse our products to discover the solutions that meet your mass communication needs. If you're unsure about how business messaging could work for you or have questions about our products, contact the Red Oxygen team. We can help you find the best solution for your company's needs.