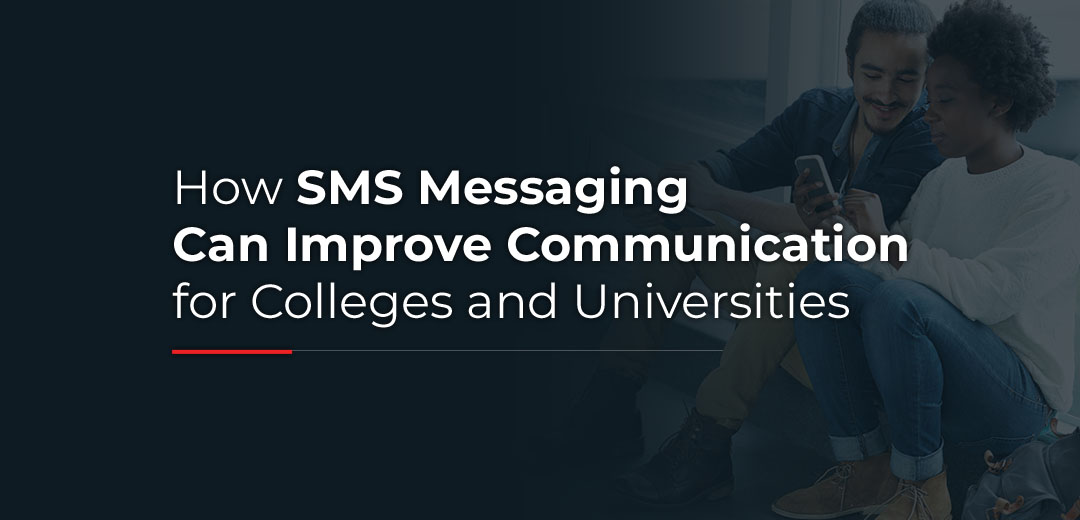 With a heavy Gen Z demographic, colleges and universities need tech-first strategies for staying in touch with their students. And, unlike K-12 schools, higher education facilities are often spread out, with many buildings, transportation methods and even multiple campuses. Short message service (SMS), also called texting, is an excellent way to communicate with these students quickly and conveniently, no matter where they are.
How universities use SMS systems can vary widely, from uses as simple as a reminder of due dates or as critical as an emergency alert for dangerous weather. Different departments, like the admissions office or a student health center, can even use them for specific purposes.
How Can Universities Use SMS Messaging?
Colleges and universities can use SMS texting for a wide range of communications with students, prospective students, faculty, alumni and parents. Check out the following tips for how colleges can use SMS messaging:
1. Admissions
Admissions offices frequently need to maintain contact with students to ensure a smooth application process and create the best image for the school. With SMS messaging, the admissions team can send out reminders to students who are applying, offer information about events like move-in day, and even initiate discussions with students who have shown interest. These texts can include links for more information, submission forms and contacts. Two-way messaging also creates an easy link to admissions personnel, allowing you to create a one-on-one relationship and access to information.
2. Class Notifications
Sick day for the professor? Last-minute switch to another lecture hall? Colleges using outbound messaging systems can send these updates out to the students, so no one has to trudge all the way to class just to learn it was canceled or moved.
3. Safety
Safety is one of the most common reasons to use a bulk SMS system for colleges. If you need to get a message out as quickly as possible, and to as many people as possible, texts are a good choice. Email doesn't always update immediately, WiFi can be spotty and not everyone has dependable cellular data. Texts push through right away and are a very reliable medium—they work during power outages and cell coverage is widespread. If you have multiple campuses or online-only students, you can even zero in by location to make sure the right people get messages.
Whether campus gets hit by a storm, a power outage, an intruder or another threat that requires immediate attention from students and faculty, texts are extremely valuable. Students and faculty usually have their phones on them, and everyone's device becomes an alert. That's a sharp contrast to emails that may go unread and intercoms or speakers that don't reach people out of earshot.
SMS can also be more accessible to students with disabilities, who often set their phones up to deliver alerts in ways that work for them, such as flashing lights, tactile buzzes or audible tones.
4. Athletics
Sports are a major part of many universities, and you can use SMS texts to get the word out. Tell students, parents, alumni and staff about upcoming games and events to convince them to come to show off their school pride.
5. Events
Whether the school is hosting a festival, a workshop or something else entirely, an SMS system can send out the details to generate more buzz. These brief texts can be especially useful for reaching people who aren't on campus to see fliers, like online students and alumni.
6. General Updates
You can also use messages for general reminders, like registration deadlines and finals week schedules. The occasional tip is also a great idea and can help your students navigate the difficulties of higher education. You can send out a link to self-care tips going into finals week or a Q&A on choosing an apartment.
7. Appointments
Advisors, student health centers and other offices across campus can take advantage of sending appointment reminders and confirmation through SMS. Students can respond quickly with a simple yes or no.
8. Account Management
Payment reminders can be helpful for students who still owe tuition payments or those who may be late on one. They're also helpful for reminding students if their meal plan balance is low. You can also send these reminders to parents if they're involved in payments.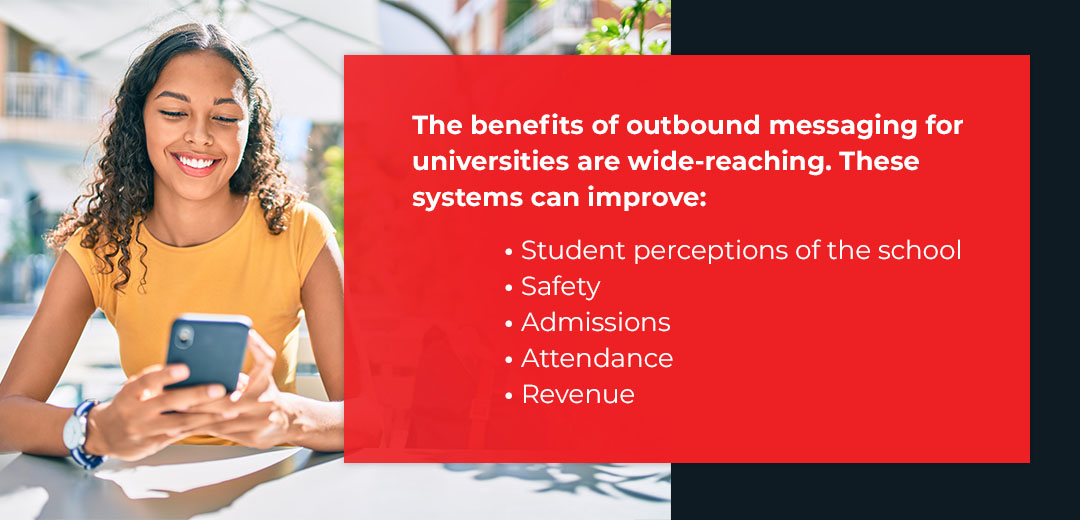 Should Colleges Use an SMS System?
The benefits of outbound messaging for universities are wide-reaching. These systems can improve:
Student perceptions of the school: Easy, frequent and simple communications can help schools improve their relationships with students and offer a better experience overall.
Safety: Using an SMS system for emergency alerts can help keep students and faculty safe in dangerous situations.
Admissions: Application and visit reminders can keep the school front and center during a busy admissions season, and a convenient point of contact with an admissions representative can help students stay in touch.
Attendance: Texts serve as a handy and low-cost way to boost attendance at school events and appointments.
Revenue: All of these advantages can help you reach people in the right ways and contribute to revenue growth.
SMS systems have particular advantages over other platforms like email or phone calls. They won't get lost in the inbox like an email would, with typical open rates of 98% vs. just 20% for emails. Plus 95% of those SMS messages are opened and responded to within three minutes of delivery. They're unobtrusive and convenient, unlike phone calls, which are time-consuming and likely to be ignored, especially if they come from an unknown number.
Optimizing SMS for Students
When it comes to the younger generation, SMS is at a particular advantage. Almost 100% of U.S. adults between 18 and 29 own a cellphone. Even if they don't have internet access, you can be positive they can receive texts. Still, you'll want to make sure they're effective. If your messages look like a scam or are too excessive, students are likely to opt-out. Make sure your messages are targeted to the right people, purposeful and use clear identification, like signatures.
Using Red Oxygen for University SMS Messaging
Messaging college students using SMS comes easy with Red Oxygen. With the Red Oxygen system, you can compose and send messages from your computer, similar to how you would type up an email. Replies are sent to your email inbox and you can take control of scheduled messaging, message threading and application programming interface (API) integrations. Dedicated numbers allow you to identify different departments clearly, and you can use Red Oxygen from your email app, on a browser or even with a spreadsheet.
No matter the size or location of your school, Red Oxygen works with you. It's scalable, cost-effective and backed by industry-leading support from an organization with over 20 years of experience. Learn more about what Red Oxygen can do, or reach out to us to get started!