Business communications have changed drastically in the last decade, including how we use short message service (SMS). Whether you're communicating with employees, customers or stakeholders, SMS messaging is a great way to boost productivity in your organization. You can use it for everything from company news and customer service tickets to emergency notifications and employee feedback requests. With increased urgency, business-oriented features, and a user-friendly system, SMS texting for productivity can transform the nature of your conversations and your ability to work efficiently.
The Advantages of SMS Texting for Productivity
One of the biggest challenges for customer service agents is simply not having enough time in the day, and finding tools to boost productivity can help alleviate that stress. Compared to other communication methods like live chats, phone calls and emails, SMS consistently comes out on top, offering a unique type of efficiency.
Some of the benefits of SMS texting include:
Flexibility: The recipient can reply to a text at their earliest convenience. On the other hand, phone calls and chats require both parties to be immediately available. Playing tag with your conversation partner could cause lost sales or delay operations. Texting offers a low-pressure way to talk and stay available, even outside regular business hours.
Simultaneous conversations: Phone calls only allow for one conversation at a time, but you can have many text threads open at once. You can significantly boost customer service productivity by having one employee answer several threads simultaneously. You could also use this strategy to submit IT help tickets or ask HR questions.
More noticeable messages: The importance of SMS messages usually feels much higher to recipients than emails. Many companies even use texts to remind employees to open specific emails, such as significant updates or emails that require a time-sensitive response. Since people often receive fewer texts than emails, your SMS messages can stand out from other communications your recipients are bombarded with all day.
Taking advantage of these benefits can help you optimize the value of a business SMS solution and use it as effectively as possible.
Guide to Using SMS for Productivity and Efficiency
Now that you know what SMS has to offer, let's take a look at how organizations of all sizes can use it effectively. Here are some ways to make your team more productive with SMS texting.
1. Use Business Tools
The effectiveness of SMS often depends on business-oriented tools that help you work more productively. Some examples include:
Personalization, such as customer names and order numbers.
Dedicated numbers to help customers identify you.
Opt-out and blacklist features so you can stay compliant with industry regulations.
Admin access to SMS threads.
Bulk texting and mail list management.
Online texting from a web portal or email interface.
Texting is a fantastic method of communication, but these business resources allow you to use it efficiently and ensure it integrates well into your workflow.
2. Create Templates
Whether you're texting employees or customers, you'll likely field many of the same questions or conversations. A collection of templates can help associates offer well-crafted responses without spending precious time on each one. They're especially useful for customer service efficiency and answering repeated questions quickly.
You might, for instance, create a boilerplate text with your return policy and include a link to start a return. When a team member sends this message, the customer gets a seamless, on-brand experience, and the associate can resolve the ticket in no time.
3. Craft Your Messages Appropriately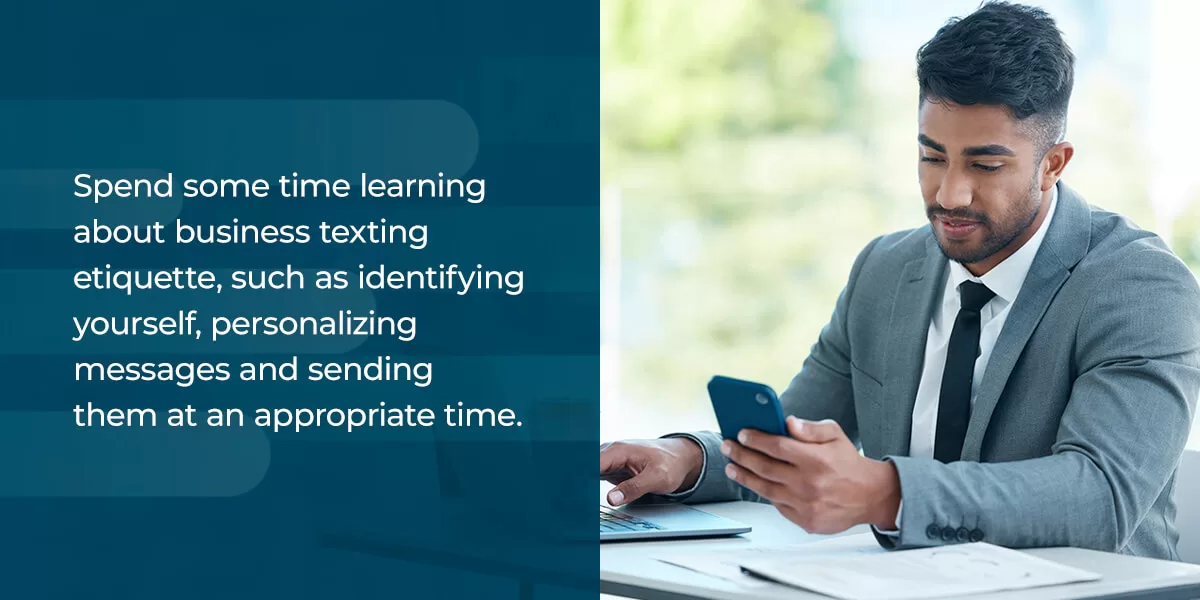 SMS is Short Message Service for a reason…to keep it short. 160 characters is considered one text and is charged as such, anything longer is charged as more than one, though most carriers now enable business texting services to send longer texts in one 'bubble', but that doesn't make it ok to go overboard. Your recipient will likely see the message on a small screen, so a large wall of text becomes less enticing to read. Any employee using SMS texting should understand the importance of concision. By getting to the point, they can save time and communicate more effectively, especially compared to long-winded phone calls.
Message length is just one example of how text communications differ from other channels. Spend some time learning about business texting etiquette, such as identifying yourself, personalizing messages and sending them at an appropriate time. You'll also need to ensure your messages comply with local regulations, such as those from the Federal Communications Commission (FCC).
4. Send Internal Business Communications via Text
SMS texting works well for a wide range of high-priority and day-to-day internal business communications, such as:
Upcoming company events
Building and facility updates, like remodeling notices or severe weather alerts
Scheduling information
HR updates, like new policies or guidelines
Employee pulse surveys
If you have specific business processes that frequently slow you down, consider using SMS to boost company efficiency. Internal texting can help you promote urgency by standing out from a sea of emails. Many employees will respond to them faster and less long-winded, which helps move things along, preventing bottlenecks or other delays. You can even make their jobs easier by providing relevant links to resources.
For example, an employee on a business trip may not keep up with routine emails, but a quick text asking for approval on a document allows them to check in on this high-priority task. Using a business number also allows the employee to keep their personal phone number separate and provides a record of the interaction for the organization.
5. Multitask Customer Service With SMS Threads
An SMS solution can be particularly valuable to the customer service department. One-on-one communications, such as phone calls and live chats, can take a while. Associates might wait for customers to find their order numbers or decide which product they want to buy. Instead of sitting idly, an SMS system allows team members to jump to other conversations and make progress on more tickets.
Thanks to the flexible response times of SMS and the relaxed expectations associated with them, your team can simultaneously engage with multiple customers and solve problems faster.
Boost Your Company Productivity With Red Oxygen
SMS texting is a great way to fight inefficiencies in both internal and external communications. At Red Oxygen, we've been refining our business SMS solutions for over 20 years, offering versatile and easy-to-use texting systems that help organizations save time and work more effectively. Write texts from your web browser, receive responses in your email or integrate our system with your favorite customer relationship management (CRM) platform.
However you choose to communicate with customers, employees and partners, Red Oxygen has you covered. We offer 24/7 global support and guidance for working with mobile carriers and CTIA, the wireless communication industry's trade association. With unparalleled flexibility and robust off-the-shelf tools, you can quickly integrate SMS texting into your workflow and boost productivity.
Request your free trial today to see our solution in action and get started!