SMS for banks has been traditionally used as a convenient method for customers to perform banking-related activities, allowing financial institutions to send or receive instructions from customers. This is just one way that mobile SMS banking has enhanced relationships with customers—but there is more!
Organizations can also use SMS to process loan applications, update customers on policy changes and send payment reminders. Need to fine-tune staff communication? Text messaging can help you do just that. You can send staff important reminders you don't want to get lost in their emails.
Let's look at some of the benefits and features of text messaging for credit unions, banks and other financial institutions.  
Benefits of Bank Mobile Alert Text Messaging
Text messages are a quick and easy way to connect with your customers and employees. They're so effective that they have a 98% open rate! This is because people carry their phones with them everywhere, and texting has become a primary way for many people to communicate.
As a financial institution, you can use text messages to send important messages to customers and your employees. Here are some of the benefits of text messaging for banks.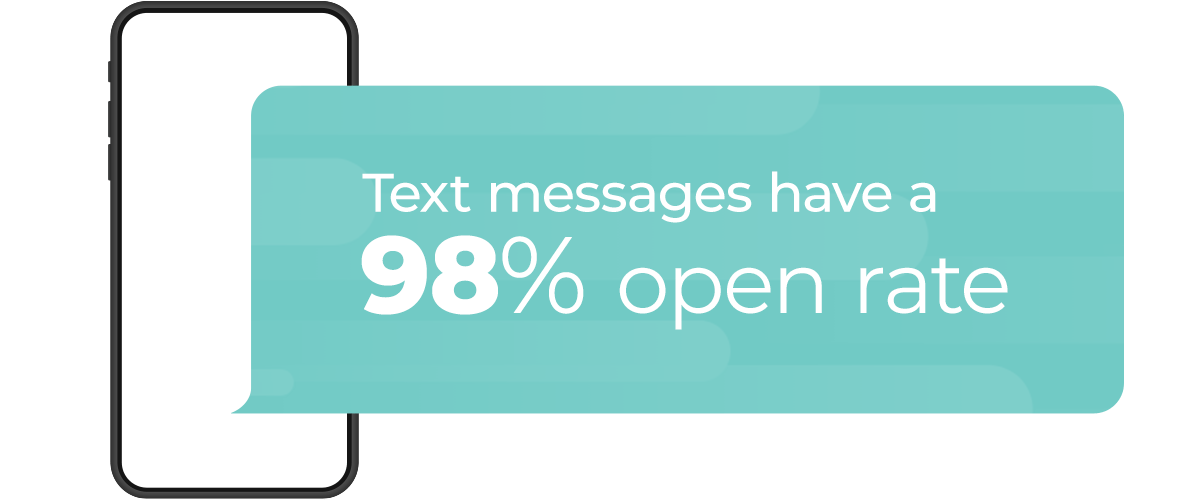 Connects You With Customers and Employees
SMS allows you to send information to customers without needing to pick up the phone. You can begin customer interactions, send personalized interactions, facilitate member services and push marketing offerings. When you need to refer back to your interactions, you'll have a digital paper trail in your records.
Text messaging also offers personalized communication based on details such as clients' names, banking behavior, demographics and even locations. 
Wide Range of Use Cases
You may think text messaging is only for marketing or sending notifications. But there are far more use cases across different departments: 
Human resources: If your clients get inundated with emails, your employees likely have the same experience. Your HR team can use SMS to communicate information such as holidays and reminders to internal stakeholders and employees. It's a simple way to boost your communications and update employees on company news. 
Bank operations and account services: Customers look for options that allow them to bank on the go easily. You can provide simple banking services such as account balances and sending reports. You can also let your members sign up for proactive alerts that let them know about activity on their accounts. 
Sales and loan applications: How many times have you started a loan application with clients only to have it stall? Instead of sending follow-up emails that will likely go unread, you can shoot a text to prospects notifying them of the next steps in the 

process.

 

Contact centers:

 With customer inquiries pouring in, the burden on contact centers can be cumbersome. 

Customers can send an SMS instead of waiting on hold, allowing agents to answer more questions in the same time of a one-on-one call—which raises the

 quality of customer service. Text messaging can help you answer and route common queries, saving you time on unnecessary phone calls. Your customer service will improve as you quickly and efficiently deal with inquiries.

Low Cost and High Return on Investment (ROI)
SMS message credits are more cost-effective, especially when you purchase them in bulk. Other marketing channels, such as print media, radio and TV, can be expensive. A well-timed SMS can cost you much less and get you a higher return. It gives you instant communication directly to your target market, which can help you experience faster results.
Best Practices for Text Messaging
Text messages open up a world of convenience for your organization, but you need to be mindful of how you go about it. These best practices will keep your communication with clients and employees convenient and discreet. 
Inform Your Clients and Employees
As SMS has become more popular, spammers and scammers also exploit this form of communication. Make it clear to everyone you contact what you will and won't send or require via text so they can easily spot any red flags. Post this information on your website and add it to your opt-in process.
Customers trust your institution with their sensitive data, so make it clear that you will never send out their personal information or ask for passwords, account numbers or social security numbers via SMS. If they receive requests of this nature, they should immediately flag them with you. 
Text Customers Who Expect to Hear From You
Have you ever received an SMS that you didn't sign up for? Most of the time, you probably delete it. Text messaging is personal and can help you get high response rates, but only if the person expects to hear from you and has an interest in your message. To get the response you're looking for, the person receiving it should be an existing customer and someone who has signed up to receive communications from you.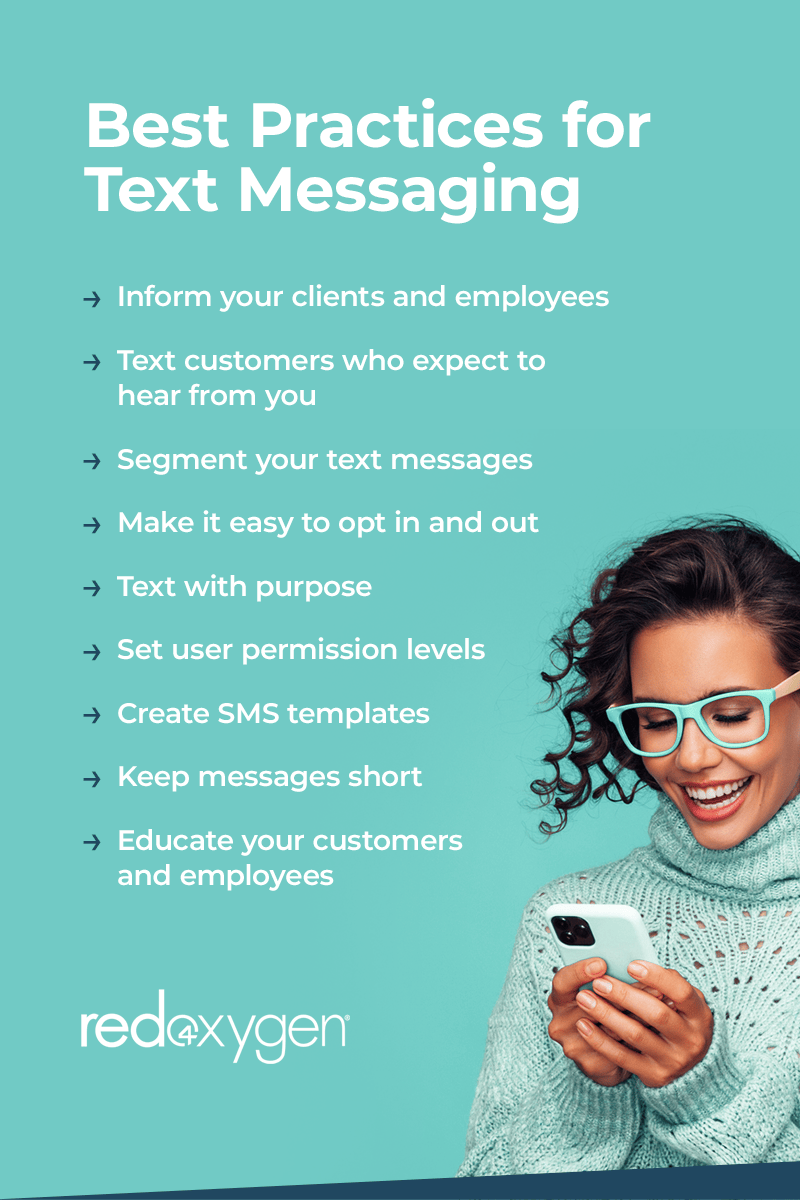 Spamming customers or texting someone who hasn't requested to hear from you is a mistake. Sending unwanted texts can land you in hot water, as this may violate the Federal Communications Commission's rules that govern telemarketing. 
Segment Your Text Messages
It's important to segment your clients and create personalized messaging to see results. This categorization helps you divide your clients into groups according to their needs and preferences. The more targeted your SMS is, the more likely it will resonate with the receiver. A few ways to segment clients are by purchase history, demographics or interests.
For example, if a client has been inquiring about a home loan, you'll know they are in the market. Sending texts with information about your home loan offerings can keep them from going to another institution.
Have some sample texts ready that you can personalize at the right time. Taking this approach is better than blindly shooting out texts to a list of customers who may not be in the market for a home loan and will most likely not receive your text well. 
Make It Easy to Opt In and Out
When clients opt-in to SMS, they permit you to communicate via SMS. In fact, businesses must have written consent before texting consumers. They also need to fully understand what they're signing up to receive.
For good measure, you can request clients to reply YES to an initial opt-in SMS so you have expressed consent from them. Clients who take the extra step to hear from you are more likely to read and interact with your message, and less likely to flag your texts as spam.
You should also make it easy for people to opt out if they no longer wish to receive your texts. At the end of every message, you should include text that says, "Text STOP to opt-out."

Text With Purpose
You've discovered the power of the text message, and you may be tempted to make it your sole form of communication. Texting with purpose is essential. Text messages are a quick, effective way to build customer relationships, but overdoing it can have the opposite effect. Unless it has to do with their account, most people only need to hear from their bank occasionally.
If you are doing marketing via SMS, limit it to bi-monthly or once a month. When you send the messages responsibly, your customers will feel well-informed and cared for. Overdo it, and they'll start ignoring your communications or even opt out.
Set User Permission Levels
Just like you have employee access controls for your client accounts, only specific employees should be able to edit and send text messages. For example, your contact center agent may be able to send out text messages to your clients, but you should limit the editing process to administrators.
Split up your text permissions by department, such as account activity and marketing—everyone should have text permissions according to the relevance of their role and department. Similarly, HR should be responsible for sending texts to your employees. 
Create SMS Templates
When you want to send out a communication to your members or employees quickly, the last thing you want to do is scramble to put together a text message. Text message templates can speed up customer communication and ensure consistency in your messaging. All you have to do is create the templates once, then you're good to go.

We have a range of text message templates you can copy and keep on hand. Here are a few examples of samples you can use: 
When you need to remind a client to make a payment: 
"Hi [NAME]! Just a reminder your automatic loan payment will be deducted on [DATE] for [$$$]. Click here [URL] to update your payment method if needed. Text STOP to unsubscribe"
For clients that have an overdue account: 
"Hello [NAME]. Payment for your [BILL] was due [DATE]. Please login to your secure account to pay now to avoid a late fee and interest charges. Thank you! Need help paying your bill? Reply with HELP to learn about our aid programs."
When you want to receive feedback on your service:
"Hey [NAME]! We loved seeing you on [DATE]. Please rate your experience with our team to let us know how we can improve. Click here [URL] to leave a rating, from one to five stars!"
Keep Messages Short
You might have a lot you want to say to your customers, but they're less likely to read a long-winded message. A standard text message is 160 characters. Anything over 160 is broken into multiple SMS of up to 156 characters each.
Some providers let you send a concatenated SMS—meaning, when you send out a message containing more than 160-characters the recipient will see one long message instead of multiple messages. Even so, simple is usually best. If the information in your text is quick and easy to digest, you're more likely to see a high response rate. 
Educate Your Customers and Employees
It's essential that you educate your employees and clients about smishing—fraudulent text messages that appear to be legitimate with the purpose of luring personal information from customers. Make sure they know exactly what you will and won't ask them for via SMS. If you ever need sensitive data from your customers, let them know about the secure means you will use to request it.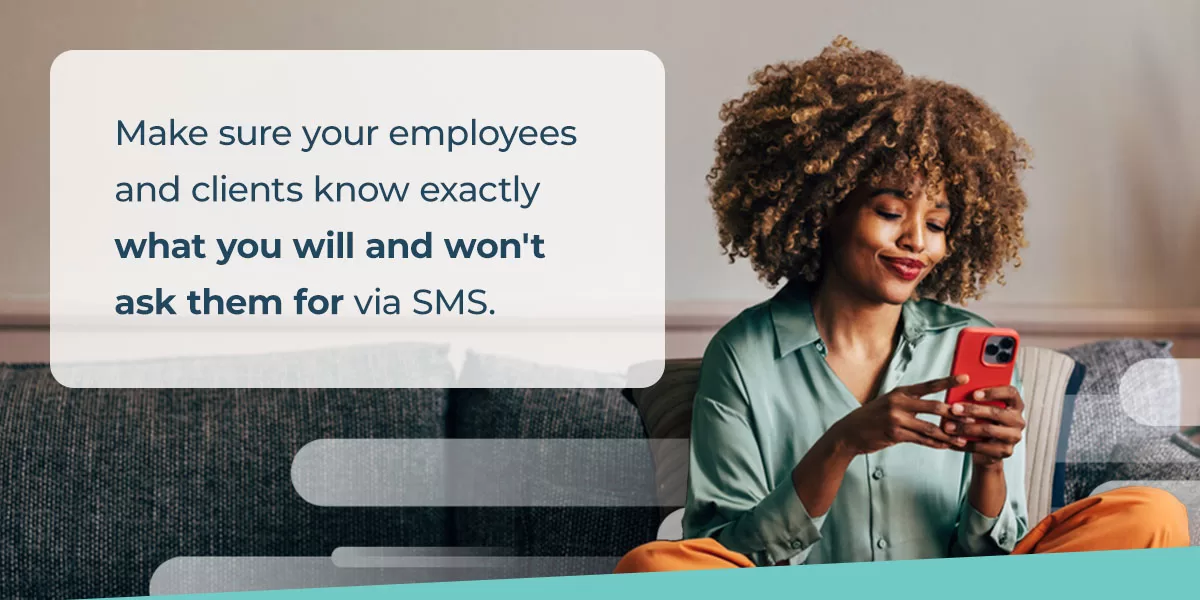 How Financial Institutions Can Use SMS Banking
Financial institutions often underutilize text messaging, yet it presents many opportunities to connect with your customers. There are plenty of creative ways to incorporate text messaging into your systems and create a better experience for clients. Here are a few ideas to get you started.
Notifications and Confirmations
Customers like to stay updated on the activity of their accounts, and sending SMS is one way you can assure them that everything is in order. You can send a text message notifying them of activities such as: 
Account log-ins from a new device to confirm that it's them. 

Activity outside their normal banking preferences, such as large cash withdrawals.

Confirmation of the safe receipt of deposits.
Balance Updates
Some customers rarely check the balance on their accounts, especially if they receive numerous texts from their bank about their activity. Help them stay on top of their account by sending low-balance warning text messages. These updates will save them from overspending in the month and going into their overdraft. They can even set an option to receive a warning when they reach a specific threshold. If your system allows, give your customers the choice to opt out of these notifications. 
Reminders
You can use text messages to remind customers of upcoming payments. Some may find it easier to automate their payments, while others may prefer to make the payment manually. For manual payments, you can remind customers that it's coming up so they can avoid paying late fees. Sending a text message instead of an email will get your customers' immediate attention, ensuring they make the payment sooner. 
If a client's card expires in a few months, SMS can help you notify them to start using their new one. People often forget to check the expiry date, but a text message will bring their attention to the fact that they need to activate their new one. 
Plus, when customers have an appointment to meet with a banker, you can text them the day before and then a few hours before their appointment. 

Holiday Hours
Your banking hours may change during the holiday season and on certain days of the year. Send clients a courtesy message a few days before the holiday to let them know your hours on that specific day or during the period. While it may seem simple, customers planning to come in will appreciate the courtesy of letting them know. You can also send these texts to remind employees of their working hours for that day. 
Surveys
Sending out a survey is a great way to discover if customers are happy with your service and product offerings. If you're looking to offer new products or services, you can also use a survey to find out where your clients are in their lives. This may include collecting updates related to their education and housing—which could indicate that they may start earning more. It's best to keep these surveys short, with a maximum of 10 questions. 
Loan Applications
Today's loan applications are mostly digital—you can incorporate text messages to keep clients updated on the status of their applications. With the number of loans you're processing, SMS allows you to automate the notification process and send reminders, saving you time on phone calls.
Set up these text messages to go out until your clients send the necessary documentation or complete the next step. When you need additional information, request them to send it through a secure account portal.
Seasonal
 Updates and Policy Updates
Use text messages to update customers about major changes in your services or policies. For example, you can notify your clients via SMS if fee increases are coming up. If you have a quarterly newsletter, consider texting as well as emailing it to your customers for greater visibility. Remember to include the option to opt out for those who would prefer not to receive the newsletter. 
Why Choose Red Oxygen
You know that SMS banking is a smart move, so what's next? Partnering with an SMS provider will help you leverage these benefits and streamline communication with your clients and employees.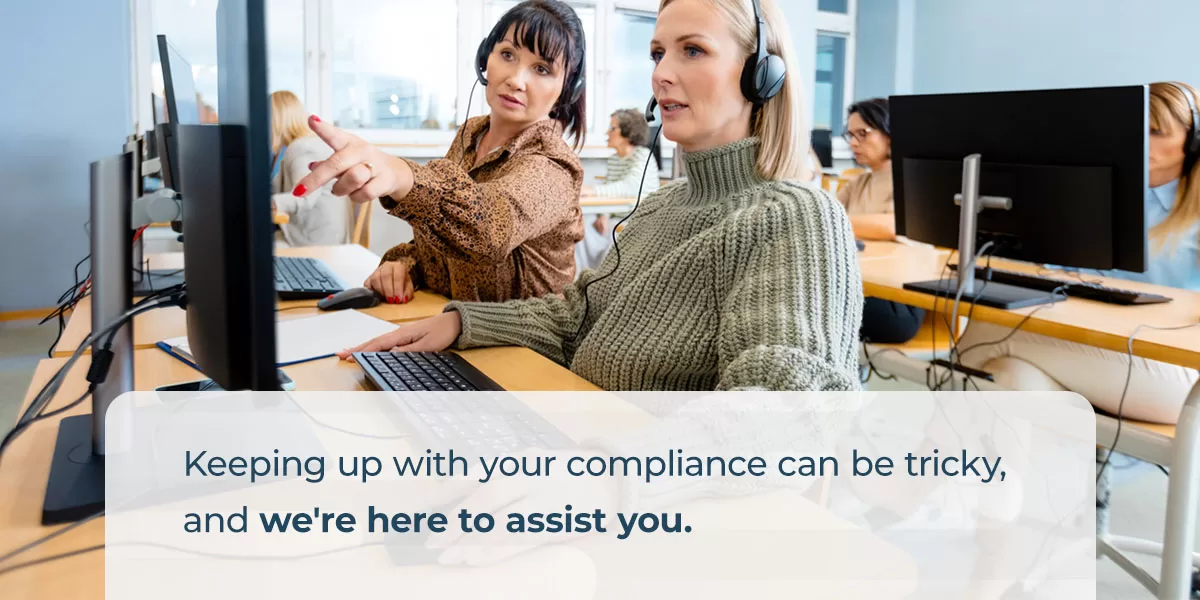 With Red Oxygen, your business can benefit from capabilities like: 
Easy setup: A smooth rollout is essential to getting your text messaging up and running. During the setup process, we support you and offer guidance to boost your texting strategy. 
Guidance on compliance: We'll help you to stay compliant. Red Oxygen follows the FCC's rules along with the CAN SPAM Act from Australia. But outside of these guidelines, there are additional country-specific regulations that need to be followed, for example, the 10dlc and toll-free registration in the U.S. and sender ID registration in Singapore and Australia. Keeping up with your compliance efforts can be tricky, and we're here to assist you.
Facilitates growth: As your organization grows, you'll want to make sure your SMS capabilities can keep up with your growing subscriber list. You can easily upload and create your mailing lists and keep them segmented. We can store unlimited contacts for you, which you can separate into as many distributions as you need. You can also quickly scale your texting capabilities with our bulk texting features that allow for mass texting to hundreds of people. 
Two-way messaging: Real-time, two-way conversations with your customers can help increase engagement, deepening customer relationships and loyalty to your organization. Our two-way messaging feature makes it easy for customers to reply to your messages and converse with you. 
Personalization tools: Your customers want to feel valued, and one way you can do this is by sending personalized messages. When customers receive customized texts with their names that appeal to their needs, they are more likely to engage with those texts because they show a relationship. Plus, in some countries, you can customize your text messages with 

an alpha header

 to brand your messages. 

Global reach: If you have customers outside of the U.S., reaching them is also important. We support customers in 58 countries, have reply paths in 26 countries, and deliver to 125+ countries regularly. We can keep you connected.
SMS API for ease of integration: Using 

an application programming interface

, you can relay important information to customers and employees via text without switching applications. Our gateway integrates with other applications, such as Windows and 

Uniplexed Information and Computing Service (UNIX)

. It also allows you to send a message through your Gmail accounts or the Red Oxygen WebSMS site. You don't need any new hardware as it comes with customer relationship management (CRM) integration capabilities. 
Request a Demo of Red Oxygen's SMS Solutions
Mobile SMS banking is a solution that can revolutionize how financial institutions engage with their customers and employees. Beyond marketing, organizations can use this tool to connect with clients about their accounts, products and services and keep them up to date with significant changes. People receive a lot of communication via their phones—if you want to stay at the top of their minds and create a positive association, follow best practices in your SMS communication.
At Red Oxygen, our text messaging solutions allow you to engage with your members personally. The solutions scale as your business grows to help you maintain quick and efficient communication. To learn more and elevate your SMS communication, request a demo today!